Think of this newsletter as your one-stop-shop for news and opportunities impacting your business.
---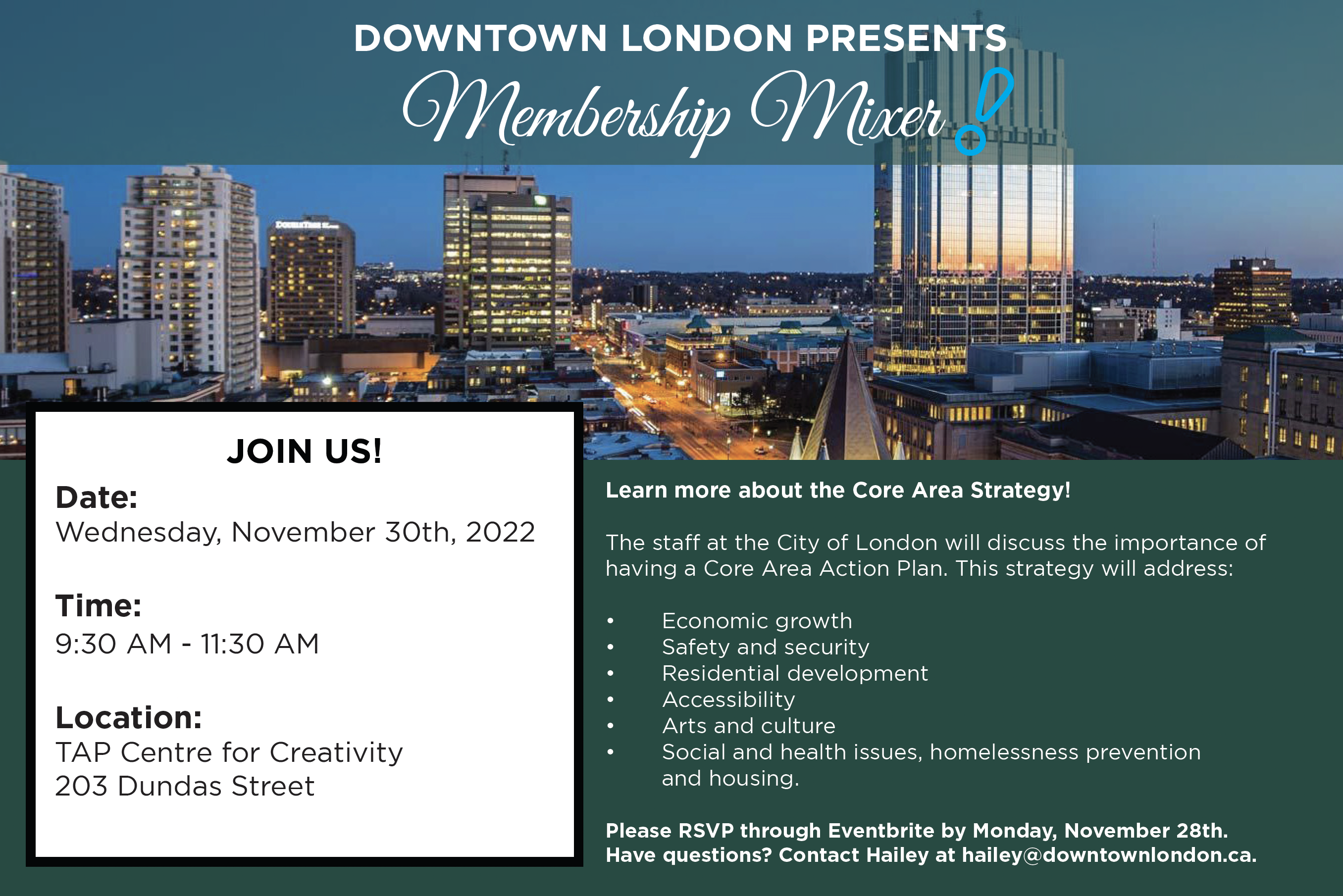 You are INVITED: Membership Mixer
The team at Downtown London is hosting another Membership Mixer for all BIA members! This FREE event will take place on Wednesday, November 30th from 9:30AM – 11:30AM. This is an opportunity for all business owners to come and meet with Downtown London staff, mingle with other business owners, and enjoy some refreshments. City of London Staff will be in attendance to provide downtown businesses with a presentation on the Core Area Strategy and will be available to answer any questions you may have.
We encourage all business owners looking to attend to RSVP by Monday, November 28th. But all are welcome to attend. If you have any questions about this mixer you can contact Hailey at hailey@downtownlondon.ca for further details.
---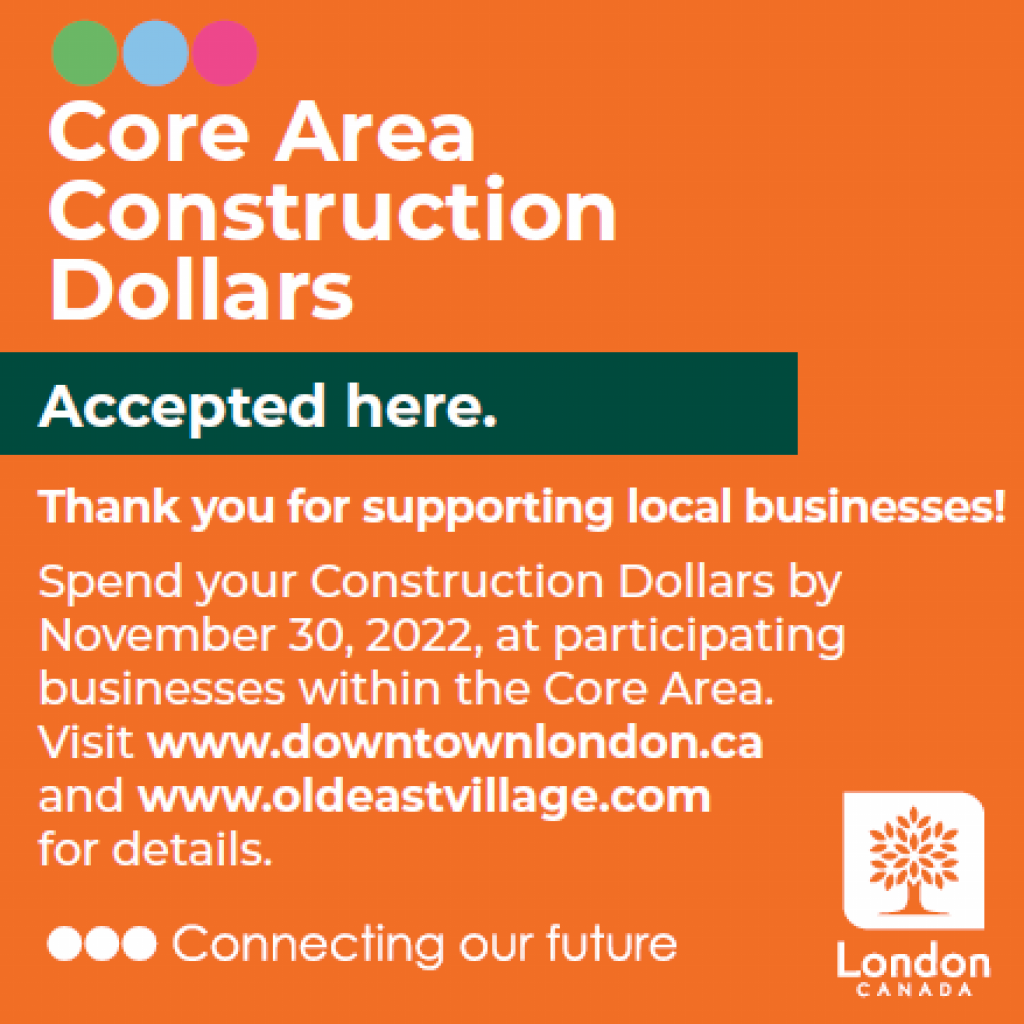 Reminder: 2022 Construction Dollars
The Core Area Construction Dollars are valid until November 30th. If you are a BIA member that still has construction dollars, please hand them into our downtown office for redemption as soon as possible. Ensure that you have filled out the back of the Construction Dollars prior to handing them in.

---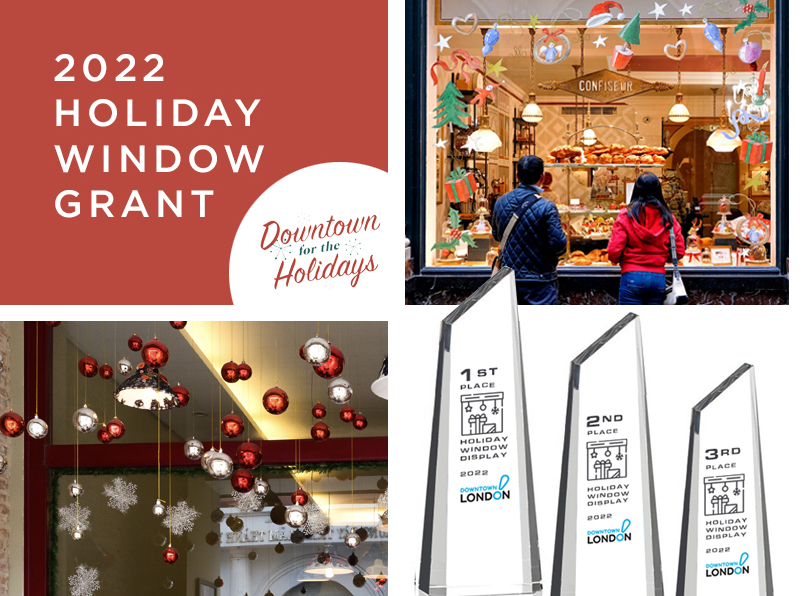 2022 Holiday Window Grant
Has your Downtown business applied for the 2022 Holiday Window Grant yet?
Members can purchase lights, window paint, and other holiday themed decorations! We're looking for creativity to inspire people to come inside! We'll be promoting a Holiday Window Walk throughout the Downtown for the Holidays event.
By applying, members will be entered into the Window Display Contest where they can win $1000, $500 and $250 Downtown Dollars which is great for your own internal marketing and contesting. The Window Display Grant winners will also given a physical award to showcase their win to their community. We'll announce the winners on Social Media on December 17. Please send your completed forms to Hailey at hailey@downtownlondon.ca or Vicki at vicki@downtownlondon.ca.
---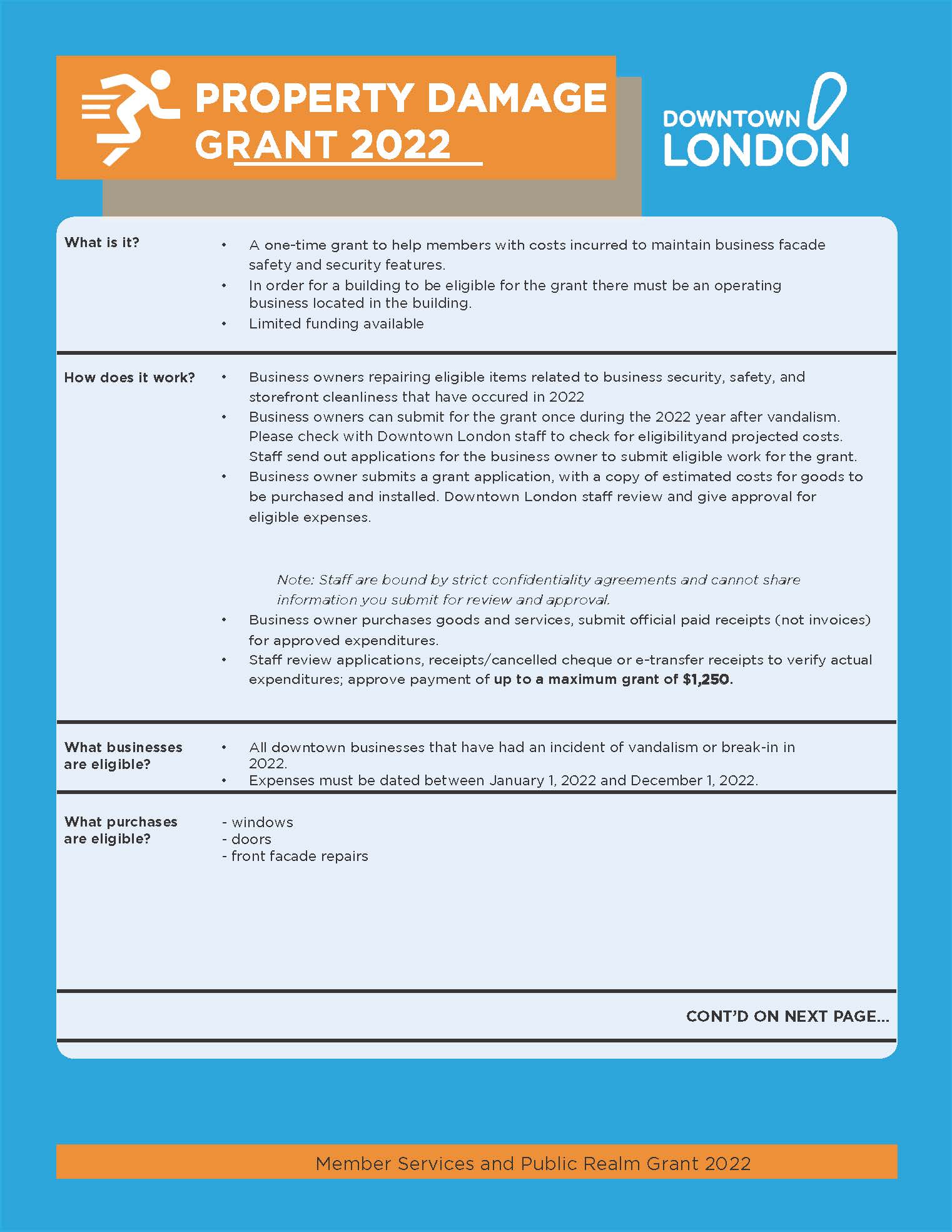 Property Damage Grant
This is a one-time grant to help members with costs incurred to maintain business facade safety and security features. In order for a building to be eligible for the grant there must be an operating business located in the building. This grant is eligible for business owners repairing items related to business security, safety, and storefront cleanliness that have occurred in 2022.
---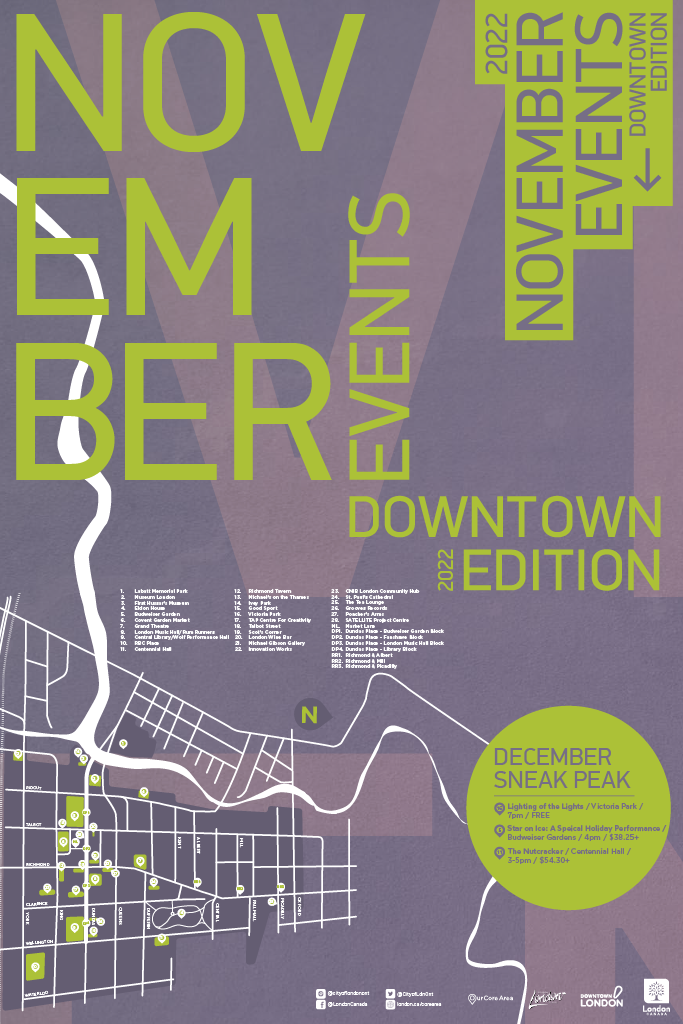 Get your event included in the monthly

Downtown Calendar!
Is your business putting on a public event in the upcoming months? Do you know of any public events you want to share with the community? Submitting your downtown London-based event to the Tourism London website will ensure it's included in the following Monthly Events Calendar! Important: You must submit your event happening to the Tourism London website before the 15th of the previous month to be included in the next month (Ex. you have an event in February, submit it before January 15). Your email will go directly to the team who will review this information. Please be advised if the event is outside of the downtown core, it may not qualify as a downtown London event, therefore not be included within the Monthly Events Calendar.
---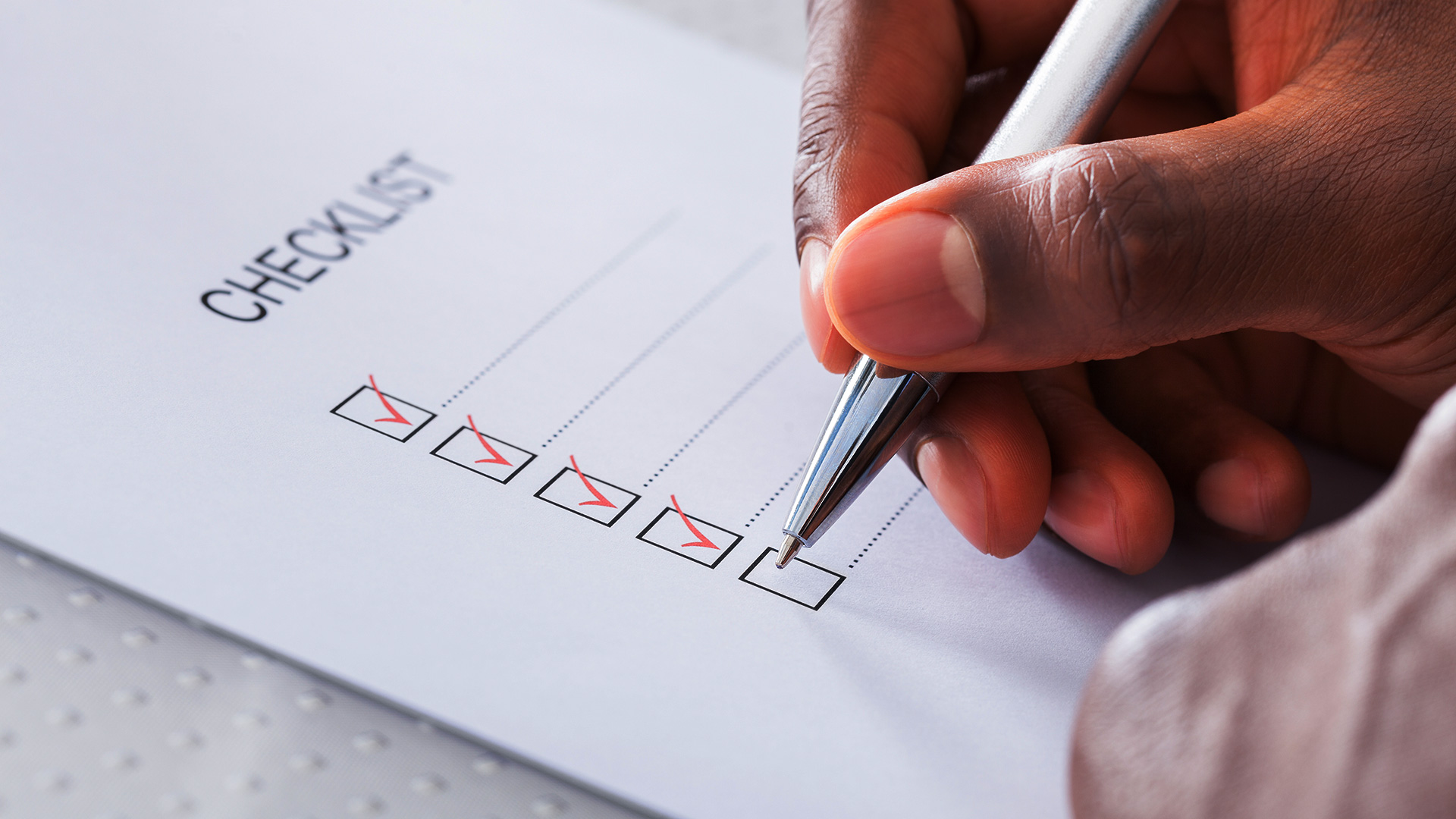 Member Events – We Want Your Help!
Are you a Downtown London member who actively puts on events, or looking to host your own? Our Downtown London team is working on creating a helpful Event Planning Toolkit, designated to elevate our member's special events. We would love to hear your feedback!

If you are interested in supporting the final product of this document, please email our Events and Sponsorships Specialist, Gabi Kowalski at gabriella@downtownlondon.ca. You will be followed up with further steps.
---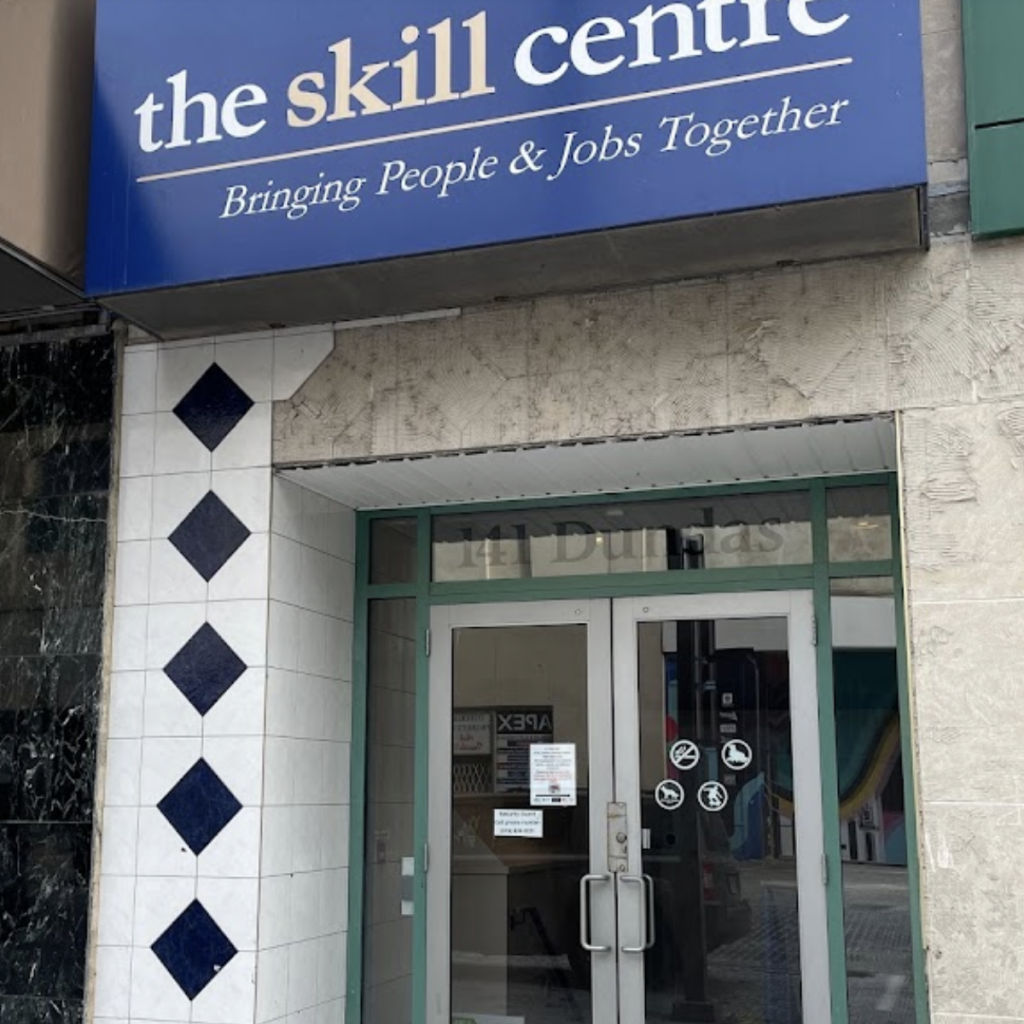 Rental Opportunities at the Skill Centre
Looking for a new space to rent? The Skill Centre located at 141 Dundas Street currently has lots of space available to anyone who is looking to rent. There is also meeting space available for organizations and business who might want to rent space temporarily or on a more permanent basis. If you are interested, please reach out to letsconnect@willemployment.ca for more information.
---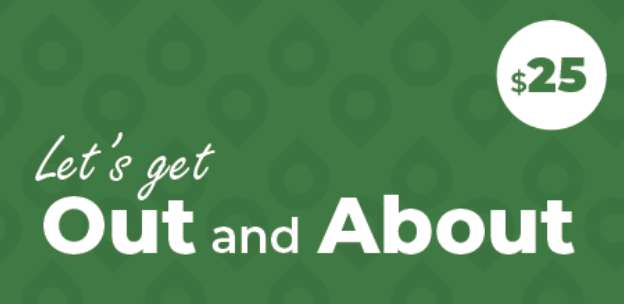 The OUT and ABOUT Core Area
Gift Card!
We have started distributing the cards today to all of the businesses in the Downtown London BIA. We will try and distribute the cards as fast as possible, but because there are so many cards to deliver it may take a few weeks to get them into the hands of all the downtown businesses.
If you're eager to get the cards, you or a representative of your business can come to pick them up from our office at 123 King Street. We're open from 8:30 am to 4:30 pm every Monday to Friday. 

---
Downtown Dollar Gift Cards
Downtown Dollars encourage local spending and are a great gift for the "tough to shop for" people in your life. Sign up here to receive Downtown Dollar Gift Cards as a method of payment from customers. Reach out to members@downtownlondon.ca for gift card set up and assistance!
---
Financial Assistance
Click here for information grants and loans available to small businesses.
---