Please note the Downtown London office is closed for the duration of the lockdown. All staff will be working remotely and will continue to be available via phone or email.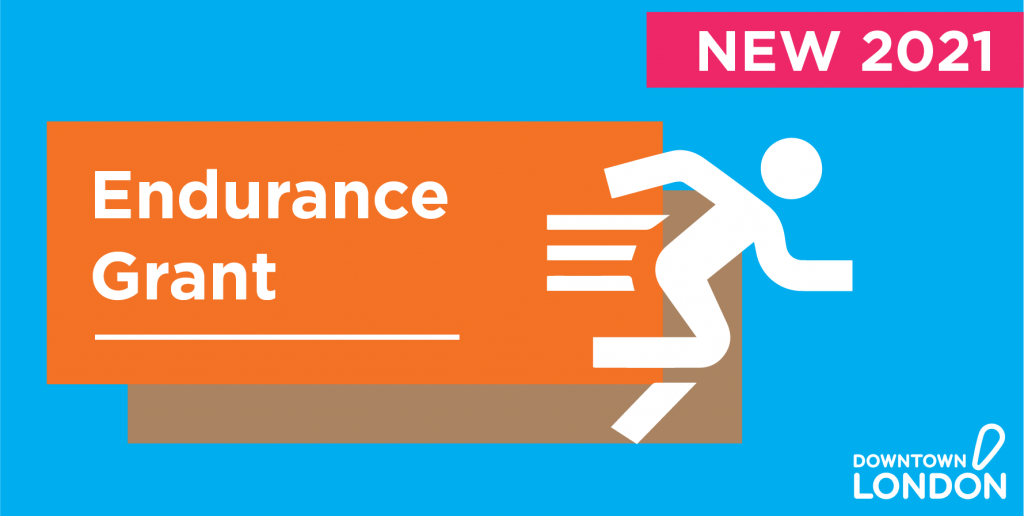 New, Financial Support Available to Downtown Businesses
Downtown London has launched the Endurance Grant in an effort to support members through this difficult time. This is a one-time grant to help members with costs incurred to improve business safety/security, beautification, cleanliness, health and safety requirements, COVID-19 related marketing costs, businesses signage costs, activations, restaurant take-out containers and restaurant delivery costs.
Having received a 2020 COVID grant will not affect eligibility for the new grant. This grant is open to all levy-paying members.
The first intake is due by March 31, 2021. Priority processing for storefront businesses. Retroactive to December 15, 2020.
All questions and applications should be directed to Vicki via email at vicki@downtownlondon.ca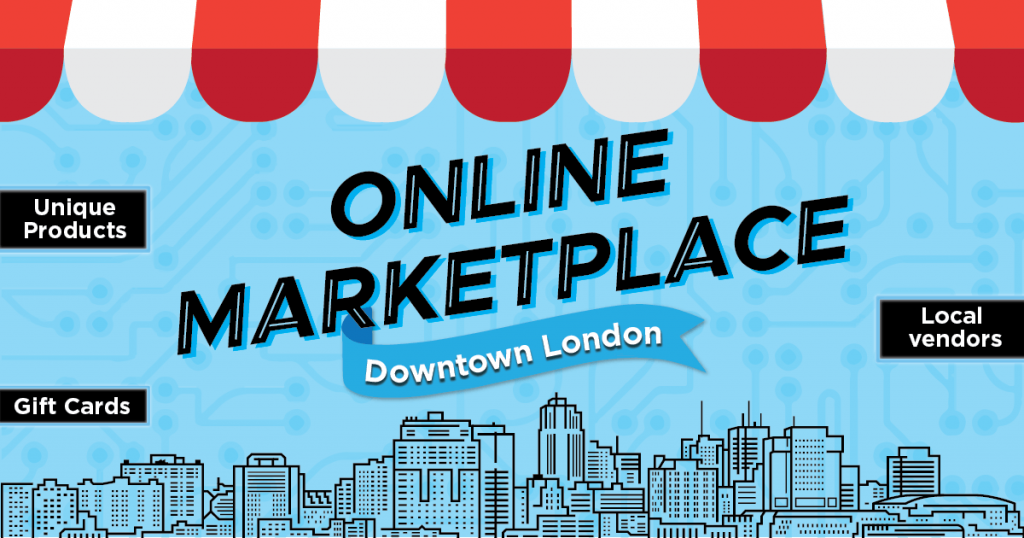 Downtown London Marketplace
E-commerce has become more and more popular in recent years, and with the unfortunate lockdown, it is more important than ever. Downtown London has built an online marketplace where downtown businesses can list their products (or gift cards!) free of charge. There is absolutely no cost to businesses to participate.
Downtown London will be placing a significant focus on marketing this new platform and will even provide your business with some marketing assets to promote your online store as well.
Goal of the Online Marketplace: Provide Londoners with a one-stop-online-shop for supporting local businesses. We receive so many messages on social media from Londoners saying that they want to support local business but aren't sure how to buy online from them or wish they could see all of the stores in one place. Here's the solution!
Advantages to Participating:
It's free of charge! No subscription or annual fees.
DTL will be marketing this platform like crazy so that you don't have to make a big advertising spend on your own.
Brand Awareness – the more places your brand is, the better! Get your name out there…even if someone doesn't make a purchase the first time they see your store they will remember you later when they are looking to make a local purchase.
Skip the hassle of dealing with e-commerce platform providers and ironing out kinks with big corporations like Shopify. Downtown London will deal with this on your behalf and will always provide tech support.
I'm a restaurant or service provider – how do I participate?
Listing giftcards is always encouraged!
How do I get Involved?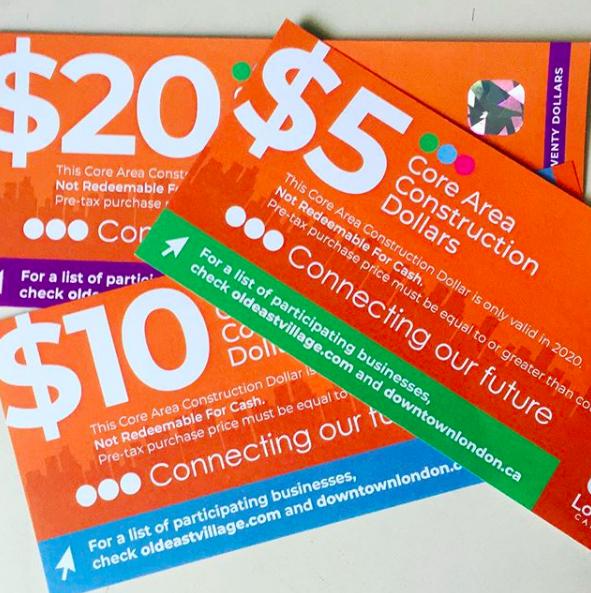 Construction Dollars & Downtown Dollars
If you have Construction Dollars, please email vicki@downtownlondon.ca by January 13, 2020 with the amount to be redeemed.
When lockdown restrictions are lifted, staff will accept both Downtown Dollars and Construction Dollars for redemption.
CFIB COVID-19 Recovery Survey
CFIB has launched a new survey so that they can gather information on how your business is coping with the pandemic, the issues that matter most to you and the support you need to get through this. Your responses are a prime, credible and current source of information for governments on small business challenges and expectations. Business owners across Canada are currently dealing with restrictions as a result of a second wave, and we want to continue providing timely updates to governments on different ways to support your business.
Topics covered in this survey:
Your business situation and 2021 outlook
Your priorities for the upcoming federal budget
Specific questions for our Alberta, Saskatchewan, Manitoba, Ontario and Quebec members
Length:
Approximately 15 to 20 minutes
Close date:
Sunday, January 31, 2021 at 10:00 AM EST
Digital Main Street
Would you like a little extra support with digital marketing? The Digital Service Squad provides small businesses with one-on-one digital marketing support. The program began in October 2019 and helps businesses pivot their products and services to reach an online market. The Squad are experts and can cater their services to the individual needs of each business owner. Anyone interested in the program can learn more at hydeparkbia.ca/dms.
This program is being offered in partnership with Downtown London, Hamilton Road BIA, Old East Village BIA, Arygle BIA, and the Hyde Park BIA.
Accessing Service Canada during Lockdown
At Service Canada, our top priority is the health and safety of Canadians and our employees while maintaining service to our clients. We are writing to share some important information regarding the ways clients can continue to access our services during Ontario's province-wide COVID-19 lockdown from December 26, 2020 to January 23, 2021.
As a valued partner, we hope that you will support us in sharing the following important information within your networks and with your clients. Attached to this email you will find a Service Canada Service Access Bulletin, which provides more information on how to access our online and e-services. Please feel free to print and share copies of this bulletin to your networks and clients.
During this lockdown period, we are also seeking your support to amplify our social media outreach messages on how to access to our services. Over the coming days and weeks, a series of tweets and posts will be published on our Service Canada Twitter account (@ServiceCanada_E) and the Employment and Social Development Canada (ESDC) Facebook account (@ESDC.GC). Please feel free retweet or share this content with your clients and networks to assist us in serving Canadians.
London Free Press Advertising Opportunity
The London Free Press has put together a program called the Co-op Listicle for local businesses. A listicle is a shared sponsored consent that will run not only across lfpress.com 40,000 times, but pushed out through The London Free Press Facebook page 75,000 times. They will also be running this in The London Free Press newspaper twice, February 6th and 13th. They are offering this shared sponsored content not only because we have had huge success with this before during the first lockdown, but also because it is a very inexpensive way to reach current and new potential customers. Total investment to take part is $420, however attached are all the details.