Effective April 2, 2021 the Downtown London office will be closed in compliance with public health guidelines. All staff will continue to be available via phone or email during this time.

Downtown Loop Public Information
The City is hosting an online public engagement meeting on Thursday, June 17 at 5 p.m. to present the near-final designs for Phase 2 of the Downtown Loop on Queens Avenue and Ridout Street, which is planned for construction in 2022.
The presentation will be a chance to:
View the near-final designs for the Downtown Loop, Phase 2 (Queens Avenue and Ridout Street)
View visualizations of the bus stations and streetscapes
Learn more about the plans for construction
Participate in a Q&A session with the project team
---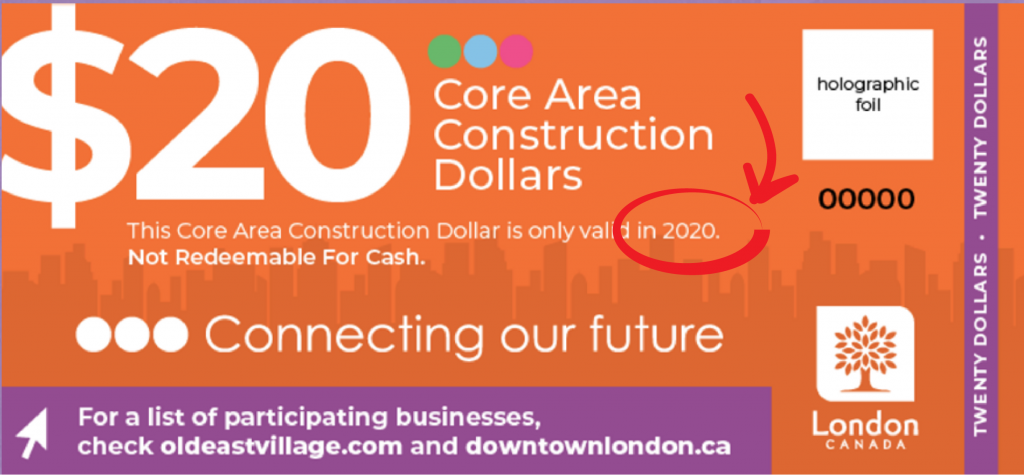 2021 Construction Dollars in Circulation
The City of London Construction Dollar program for 2021 is in full swing. To promote local spending and support businesses during construction, these dollars are accepted anywhere within the downtown and Old East Village. They are to be accepted at par.
Please be advised that our office can only redeem Construction Dollars with 2021 on the bills. Construction Dollars dated with 2020 expired in December and cannot be redeemed.
If you have received Construction Dollars and would like to redeem them, please email Vicki at vicki@downtownlondon.ca.
---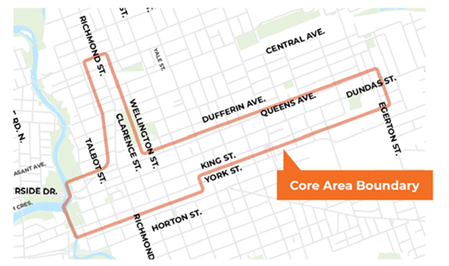 Free 2-Hour Municipal Parking Code: 'CORE'
The City of London has extended the free parking program in Downtown London for the rest of the year, ending December 31, 2021. Please share with your customers that the code has been updated.
On the HonkMobile app, Londoners can use the promo code 'CORE' to receive two hours of free parking. This is only valid for on-street and municipal parking and excludes privately managed spots.
Drivers are still able to park for free up to one hour along Dundas Street with no code required. Anyone not able to use the HonkMobile app can also phone Parking Services at 519-661-4537 to arrange the discount.
Sheridan offering free digital marketing training for small businesses hit hard by COVID-19
Sheridan's Pilon School of Business and EDGE Entrepreneurship Hub is offering a free 12-week training program that includes $500 for businesses to use towards digital marketing activities and expenses, and two training sessions.
The first runs from September 21 to December 17, 2021 and the second from January 24 to April 15, 2022.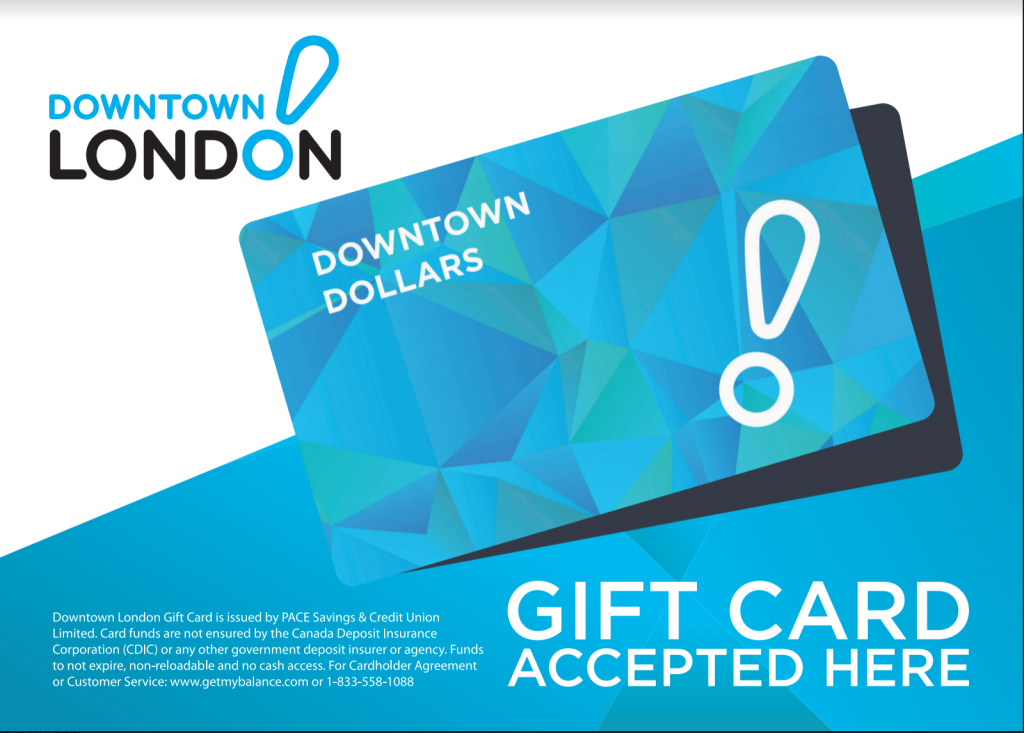 Important Downtown Dollar Update
The traditional paper Downtown Dollar system is getting an upgrade! Downtown London is switching from a paper system to a gift card system. Here's what will change:
Where can a consumer spend Downtown Dollars?
-In-Store at Participating Downtown Businesses
-Any downtown businesses e-commerce platform
-Downtown London's Online Marketplace
How does a business redeem the Downtown Dollars (get paid for them)?
-Payment is automatically deposited into your account when a customer makes a purchase using the gift card, much like a debit or credit transaction.
-You no longer will have to hold on to paper bills to bring to the office for redemption
What are the benefits of this new system?
-Consumers can use Downtown Dollars to make purchases in-store, online on your e-commerce platform, and on the Downtown London Online Marketplace
-Downtown Dollars can be spent during lockdowns and when consumers can't visit your business in-person
-The gift cards are accessible – making it easier for those with visual impairments to use in comparison to the paper bills
-You receive payment automatically when someone spends Downtown Dollars in your business. No need to make a trip to our office for redemption!
A Note on Paper Downtown Dollars
-Our goal is to have this system up and running by early July. Paper bills will still be in circulation and can be accepted as we continue to phase them out.
How do I make the switch?
-Follow the link below. All you will need is your business contact information and access to your POS machines.
A member of our team will be reaching out to businesses via phone in the next few weeks to help walk businesses through the process and ensure that everyone who would like to accept the new gift cards is set up to do so. Should you have any questions or concerns please contact either Colleen (colleen@downtownlondon.ca) or Vicki (vicki@downtownlondon.ca).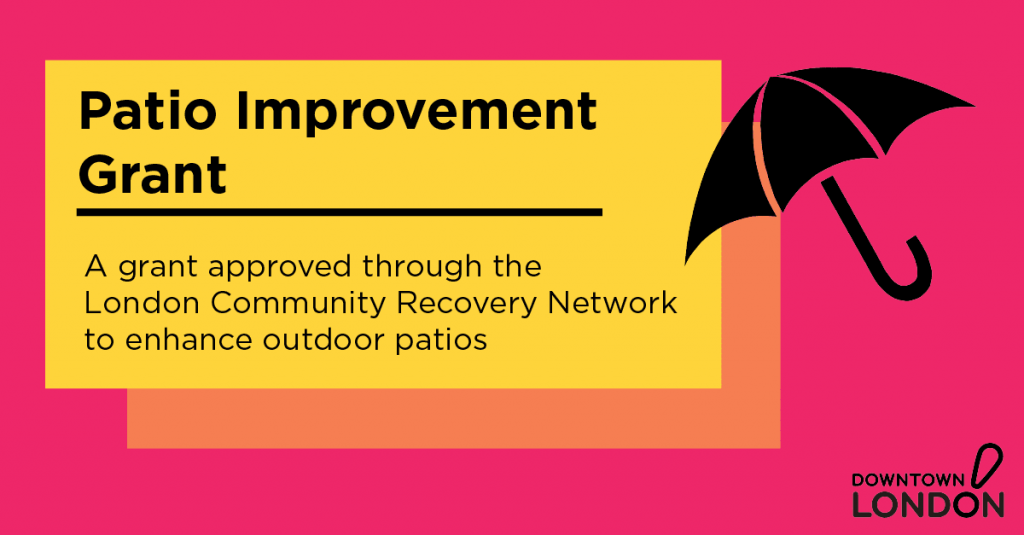 Patio Improvement Program Grant
Approved through the London Community Recovery Network to encourage enhancement of outdoor patios in the London Business Improvement Areas (BIA's). This grant is retroactive to February 23, 2021 and expires Junes 15, 2021.
Questions and completed applications should be sent to Vicki Smith via email at vicki@downtownlondon.ca
Financial Assistance
Click here for a document of curated grants and loans available to small businesses from a variety of sources (Federal, Provincial, Municipal, Private). Updated monthly.
City of London Updates
OUR CORE AREA – Recording of Forum (in case you missed it!). Topics discussed include the Ambassador Program, an overview of Core Area Summer Services, information about COAST, and safety/security in the core. – 1.5 HOUR WATCH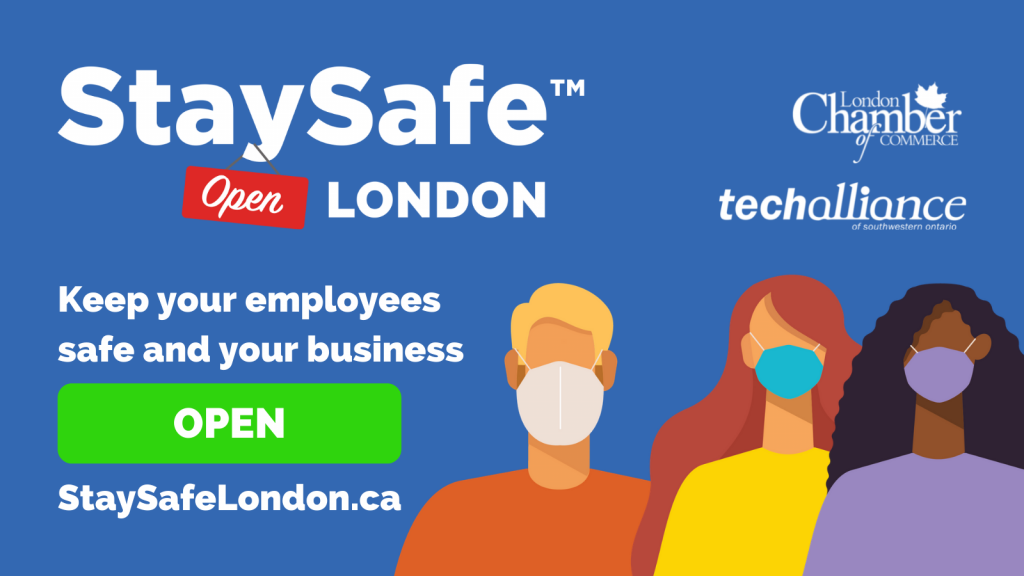 Stay Safe London – Rapid Testing Kits
London Chamber of Commerce and TechAlliance, in partnership with the Ontario and Canadian governments have launched a free rapid antigen screening program.
StaySafeLondon is a way for small and medium sized businesses in London to engage in self-administered rapid antigen screening to asymptomatic employees. Place your order today!