Weekly updates for business owners and levy-paying members of the Downtown London Business Improvement Area.
Effective April 2, 2021 the Downtown London office will be closed in compliance with public health guidelines. All staff will continue to be available via phone or email during this time.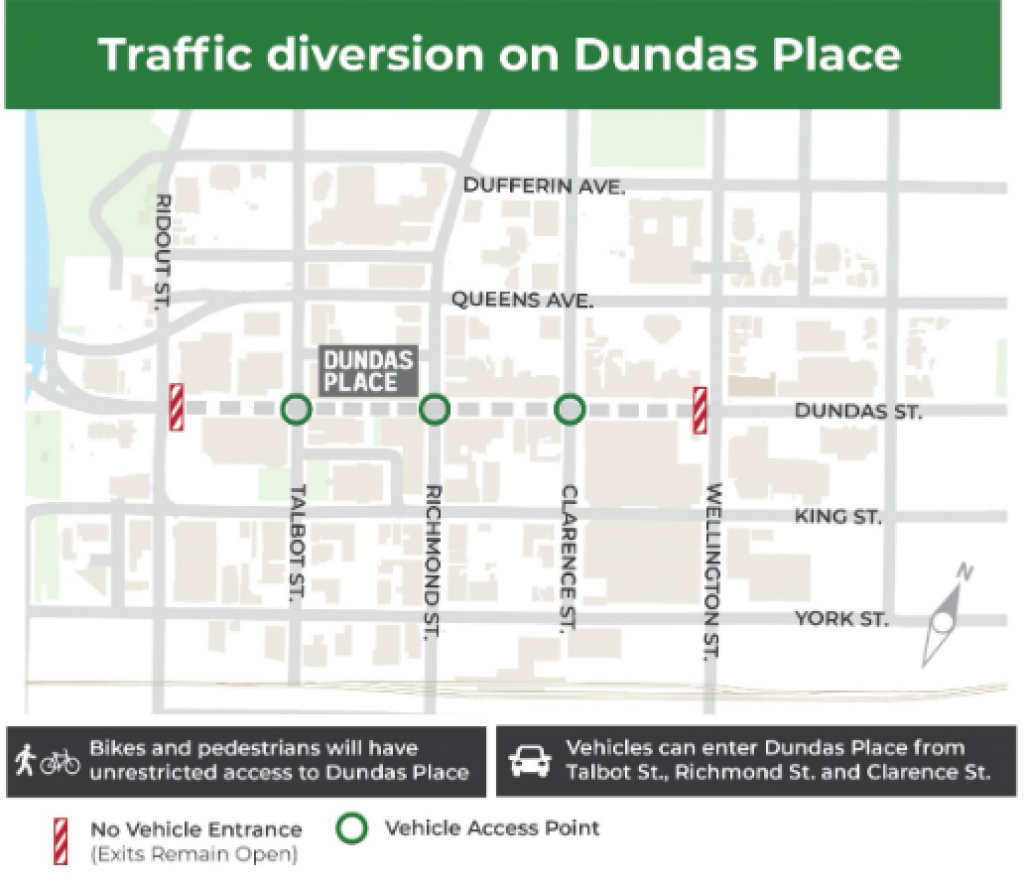 Dundas Place Traffic Update
Beginning Thursday, May 6, temporary traffic changes will be in effect on Dundas Place between Ridout Street and Wellington Street, to help improve safety and mobility for all road users during this year's construction in the core.
Motor vehicles will not be able to enter Dundas Place at Ridout Street or Wellington Street. Instead, they will have access to Dundas Place from Talbot, Richmond, and Clarence Streets to reach their destination. Vehicles will still be able to exit Dundas Place at Ridout and Wellington Streets.
Cyclists and pedestrians will be able to enter Dundas Place from all directions, including Ridout and Wellington Streets, and cyclists will still use the two general traffic lanes that are in place today.
This new traffic configuration is intended to improve safety for cyclists by decreasing the volume of motor vehicle through-traffic (vehicles only using Dundas Place to travel through the downtown). Through traffic will be directed to use York Street or Queens Avenue instead.
In-bound motor vehicle access will be blocked at Wellington and Ridout Streets using a combination of concrete barriers, planters and signage. These features will be installed on the morning of May 6. Some temporary lane restrictions will be needed in the area to allow crews enough space to complete the installation.
For more information, contact dundasplace@london.ca
---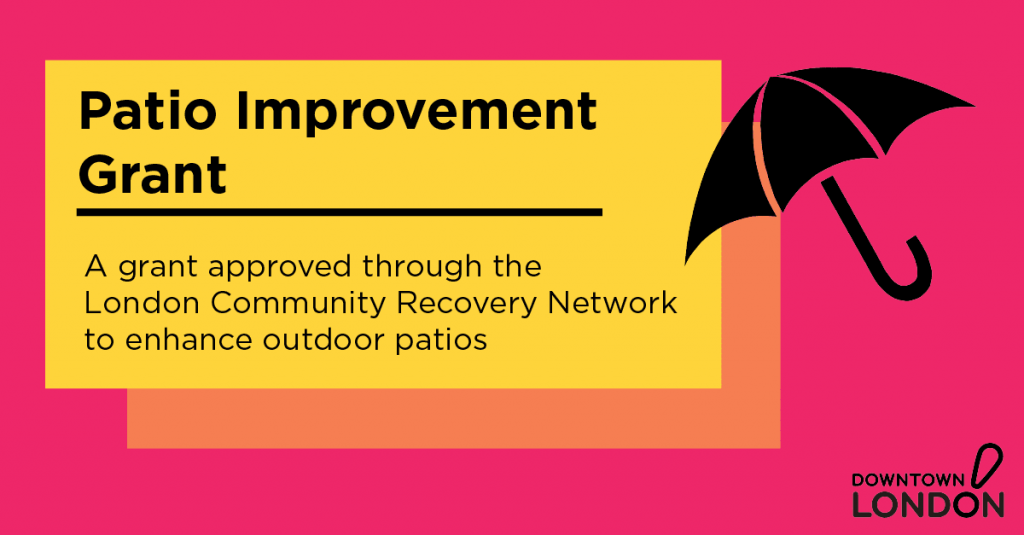 Patio Improvement Program Grant
Approved through the London Community Recovery Network to encourage enhancement of outfoor patios in the London Business Improvement Areas (BIA's). This grant is retroactive to February 23, 2021 and expires Junes 15, 2021.
Questions and completed applications should be sent to Vicki Smith via email at vicki@downtownlondon.ca
---
City of London Recovery Grant Program
The Recovery Grant Program was created to help local businesses and property owners in 5 Community Improvement Project Areas (Downtown, Old East Village, SoHo, Hamilton Road, and Lambeth) reduce the financial burden when making modifications to their private property because of the increased health and safety requirements related to COVID-19, assist with exterior property modifications to improve facades to increase the visual attractiveness, and fix or prevent damage related to vandalism.
---

Core Area Forum
On Thursday, May 13, the City of London will be hosting a forum to provide a comprehensive update on activities taking place in London's Core. The session will include brief presentations by City staff and others who are leading key projects that have impact in the Core, followed by an opportunity to ask questions for additional information. Topics covered will include an update on the ambassador program, an overview of core area summer services, information about COAST, safety and security in the Core, and more.
Please follow one of the links included below to register for the session that you would like to attend:
Thursday, May 13, 8:00 a.m. to 9:30 a.m.
OR
Thursday, May 13, 6:00 p.m. to 7:30 p.m.
---
Financial Assistance
Click here for a document of curated grants and loans available to small businesses from a variety of sources (Federal, Provincial, Municipal, Private). Updated monthly.
---

We want to hear from you!
Help us create a plan for a vibrant and prosperous downtown!
Downtown London is in the process of developing a new Strategy and Implementation Plan (2021-2015). The new strategy will build upon our past successes, provide a roadmap for our recovery and rebuilding efforts from the COVID-19 pandemic, and ensure that the organization undertakes initiatives and priorities that will lead to a vibrant downtown community.
Main areas for consideration as part of the Downtown London strategy will include:
Demographic and Economic Analysis
Best Practices and Trends
Market Analysis
Broad Community Engagement
BIA Governance
Detailed Analysis of Options and Strategic Priorities
The Strategy will establish Downtown London's goals, objectives, strategic actions, and performance measures with an accompanying implementation plan. To learn more about the process, click here.
Your opinion matters to us. We will be using your feedback to shape this strategy. Please complete the below survey by May 26, 2021.