"It is important to 'Keep London Local' because wherever you live, whether it's London or not, you have to remember that when you shop local, when you support local, you are supporting your friends and your neighbours. Keep your dollars local. Keep your community strong."
Veronica Hosszu has been with Elizabeth Noel for 33 years, the last 29 of them as the owner and operator. We sat down (virtually) with her to learn more about the story behind this Downtown London business.
Elizabeth Noel is a dress boutique that has been a staple in the heart of downtown London for over 50 years, started by the real and wonderful Elizabeth Noel. The shop was one of the first two businesses to open on Richmond Row, although it wasn't always just a gown shop. "Elizabeth loved to travel and bring artifacts back from her travels. She'd sell those among other things and always sold dresses" says Veronica Hosszu, employee extraordinaire turned owner. Veronica reminisces how her journey with Elizabeth Noel began: "Back in 1987 I was a student and I needed a job […] and it was a store that I loved, so I approached her and the rest is history. From the first shift on we just bonded." Four years later, "[Elizabeth] walked in and said 'I'm done, either you take over or I lock the doors,' so I took over. That was 29 years ago."
Fast forward to today and Elizabeth Noel is still an anchor in the Downtown core, now a fully devoted dress boutique, selling elegant dresses for any occasion. "You don't fix what isn't broke," jokes Veronica, "but we have definitely changed. We have clients who have been with us for these 33 years and they'll tell you […] we are always trying to morph to what our demographic and clients need." The newest change has been the move to 228 Dundas Street in December of 2020. The shop's new home on Dundas Place is two and a half times the size of their previous location, allowing greater selection on the floor and a spacious open concept. Their sign even pays homage to the previous business who occupied the building – the Honest Lawyer. Stop by on your next stroll downtown to see for yourself.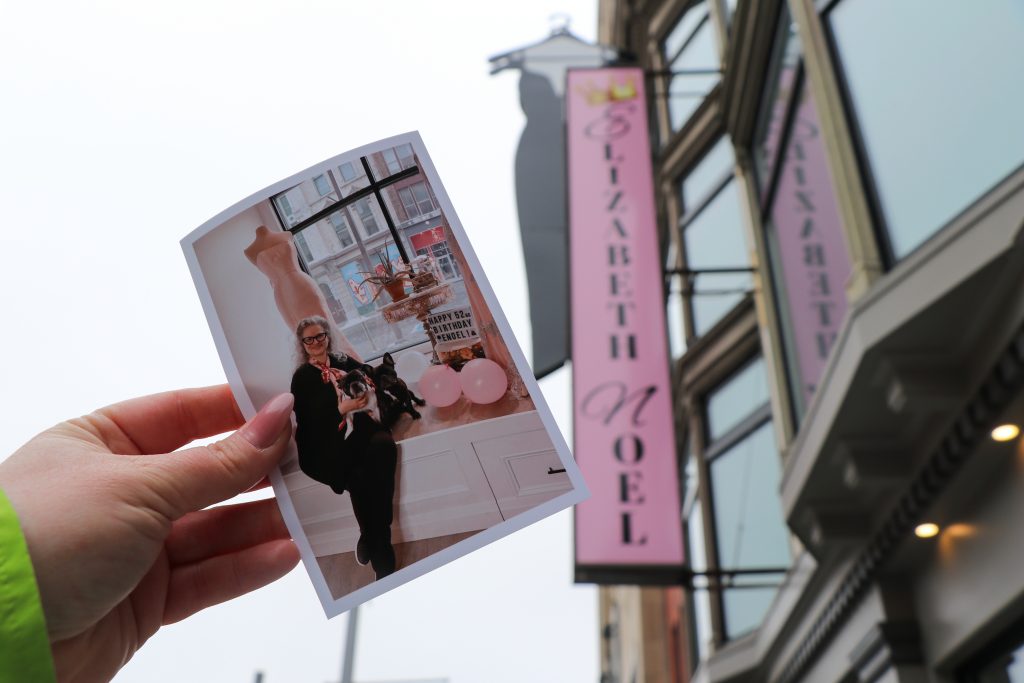 "It is an incredible space, I wanted it to look totally like a New York loft, with a funky vibe". When presented with an opportunity to move, Veronica decided to keep the business in the Downtown core; "…there is definitely a vibe to the downtown. I don't know if there are even words to explain it, but it just feels right". There is a certain uniqueness to the independently-owned businesses that have been established downtown. Veronica believes it comes from the connection between customers and owners: "I really try to have contact with every client I can. In season, I'm here 7 days a week, 10 hours a day. All the orders I take I sort of have a hand in, and I try to follow through to make sure everything is perfect".
Downtown businesses like Elizabeth Noel pride themselves on giving back to their London community. 6 years ago, Veronica started the Elizabeth Noel Princess Program, which aims to give those unable to have a prom or graduation the same experience of dressing up and celebrating themselves. "We raise money all year through different fundraising avenues and through Children's Aid or Thames Valley School Board we select youth to come in for an appointment".
The student can pick a dress for up to 500 dollars from Elizabeth Noel, and other local businesses have partnered with this cause to help with hair and makeup. "It's not really about the dress," says Veronica, "it is about coming in and feeling like you've had that same experience that everyone else had". Although this year's pandemic has made fundraising difficult, they are looking forward to doing an online virtual fashion show that is pay-per-view, as well as selling up-cycled and repurposed scrunchies from dresses that are no longer orderable.
"It is important to Keep London Local because wherever you live, whether it's London or not, you have to remember that when you shop local, when you support local, you are supporting your friends and your neighbours. Keep your dollars local. Keep your community strong."

-Veronica Hosszu, Elizabeth Noel
When asked what she wants Londoners to experience in-store, Veronica replied "I want you to almost feel like you've come into my home and we're friends. We have offered private appointments long before COVID happened, and those are my favourite ways to connect with clients." Veronica has been a familiar face for many Londoners when it comes to celebrating their milestones. She remembers a woman who waited for her specifically when coming into the store because she had purchased her grade 8 graduation dress, prom dress, university convocation dress, and medical school formal dress, and was now looking for her wedding dress. "I physically sold her all those dresses for her key moments. That was a blessing, and it makes me so grateful and proud to be a part of this community."
Veronica continues to give back to a community that has supported her for these last 29 years, and wants to emphasize how this mutual support keeps the community thriving: "I have hired people who have bought dresses from me before and those people live in our community. So if they have a job from us, then they can support that local restaurant, they can support that local gym, you know. Your dollars matter in more than one way."
Whichever occasion you are celebrating, Elizabeth Noel wants to make 'finding the dress' the perfect experience from start to finish. "You come in and I care about what you want and what you're looking for. Maybe too much! But that's because I want every person to feel like a million bucks when they buy a gown at Elizabeth Noel," Veronica says.
"I'm not perfect, but every day when I come into the store that is my hope; that we can find every person who comes in the perfect thing."
And that seems pretty perfect to us.
---
Do you want to book your own appointments with the fashionistas? Elizabeth Noel is listed in our directory. Want to learn more about other local businesses? Our Stories section is updated every week as part of our Keep London Local campaign. Thank you for continuing to support the London community.