"I think it's very important to 'Keep London Local' because local businesses are usually independent and have very unique characteristics that you won't see in any other place. These businesses are the kind of things that make the identity of our community so amazing."
Vanessa Willis and her husband are the co-owners and operators of the Church Key Bistro-Pub, an upscale gastropub on Richmond Row. We sat down (virtually) with her to learn more about the story behind this Downtown London business.
The couple started the Church Key Bistro-Pub together in May of 2009 and have been co-owners and operators for the last twelve years. Having both worked in the restaurant industry for most of their lives, they knew opening the Church Key was the natural next step. "The restaurant industry is just in our blood, it is all we know how to do," says Willis, the designated 'Mom' of the business. "It's a Mom & Pop shop: I'm Mom, he's Pop, and the Church Key is our baby! The people who work for us are like our kids. It truly is a family business and it is a legacy we hope to leave."
The concept of the Church Key was a gastropub, a traditional pub that has elevated itself to serve upscale, high quality food. Vanessa and her husband are self-proclaimed 'pub people' and wanted to create a space downtown that could do both. "The concept was something that I had been thinking of doing for a long time, so the first couple of years together we worked hard to make it a reality." It quickly became a community experience and a home away from home, Willis explained. "I wanted people to feel cared for. I wanted them to feel that at every step of their experience here, people are concerned about making them happy. It's not just about the food, it's about every aspect of their visit."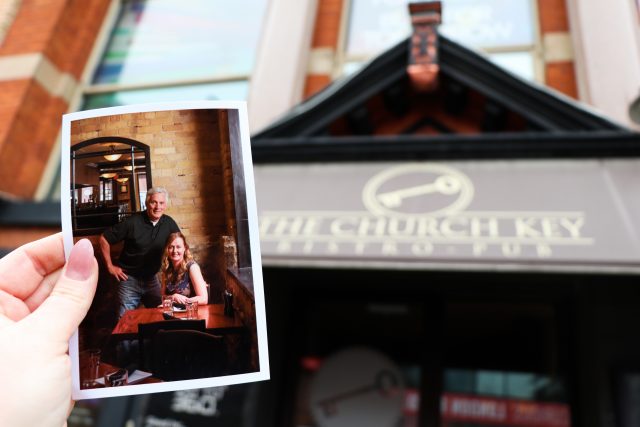 The Church Key has not been immune to the provincial lockdowns of the past year. But, like all good entrepreneurs, Vanessa Willis and her husband have learned to roll with the punches, "It was a good time to close the doors and get a few things done."
The restaurant closed for 4 weeks in January for renovations, including a new floor and a replacement of their HVAC system, and has now opened for takeout services Wednesday through Saturdays. Vanessa recalls that "[it was] so nice to have the doors open again and have the kitchen running again, just cooking food and interacting with customers from a distance. It was good to see and to serve people again."
During non-COVID times, the Church Key serves a weekly brunch program that they have become quite well-known for. Every Sunday the kitchen designs a unique menu with 5 dishes to choose from, changing every week, so the Church Key can utilize small-batch locally-sourced products. Willis is very proud of the program and stresses the importance of giving back to the community; "We have worked with so many farmers over the years that we try to feature them once a week on this menu. That is some of the best local support that we do."
"I think it's very important to 'Keep London Local' because local businesses are usually independent and have very unique characteristics that you won't see in any other place. These businesses are the kind of things that make the identity of our community so amazing."

-Vanessa Willis, Co-Owner of Church Key Bistro-Pub
And Vanessa is a true 'London Local'. "I've lived in London for most of my life, and in all the years I have spent working in restaurants before the Church Key, 80% of them were in the downtown core, […] so it is a comfort zone for me" says Willis. She believes there is an abundance of opportunity in the downtown London area, especially for new restaurant concepts. "Once we were married and ready to open up the business there was no question about where we wanted to do it." Over the years the two have thought about expanding to a second location or additional concepts, but agree that it is "no question that we would only ever open up shop in London, and preferably in the downtown".
Willis proclaims that London is the 'biggest small town in Ontario', and has allowed her to experience the best of both worlds in her career. She explains "it's just big enough to feel like you're part of something bigger than yourself…but it's also just small enough to be a part of the community." She has always wanted customers to be able to have a nice meal in a restaurant that was trying to be a part of the larger community, and we believe she has succeeded. "You know the first name of customers and coworkers and other business owners in the downtown. That is my favourite part."
When asked why it is important to source and shop local, Willis replied "it's important to continually support people who are coming up with these new fresh unique ideas and the best way to support them is with your dollar. Keep the local economy thriving […] It has been a difficult year for small businesses and it counts these days, it really does." The ChurchKey is coming up on it's 12 anniversary this May, and we agree with Vanessa that "supporting local businesses is the way we will all make it out the other side."
The Church Key is currently offering pick-up from Wednesdays through Saturdays by phoning the restaurant. Willis wants Londoners to know how easy it is to connect with them: "Just call us, tell us what you want and when you want it, and we'll have it ready for you. Simple."
Supporting local businesses? It really is that simple.
---
Do you want to dine with the greats? The Church Key Bistro is listed in our directory. Want to learn more about other local businesses? Our Stories section is updated every week as part of our Keep London Local campaign. Thank you for continuing to support the London community.
*Photo taken by Steve Grimes for EatDrink Magazine