McKaskell Haindl Design Group, working in association with Cardinal Fine Cabinetry, is located at 362 Talbot Street in the heart of downtown. Their inviting showroom is located a few doors down from the busy King and Talbot intersection, on the eastside. Step inside and you'll be delighted by their unique space. It features high ceilings, hardwood floors, spacious windows, whimsical butterfly wallpaper and gorgeous custom cabinetry. There are seats and a sturdy coffee table made from hockey sticks. A small desk sits to one side. It serves as office space for designer and part owner/founder, Chris Haindl. He is excited to note "we've had some great events here in the past." Indeed, the showroom space has been used for art shows, fashion events, local cooking demonstrations and the custom kitchen served as the workable space and photo backdrop for the popular Forest City Cookbook.
The McKaskell Haindl business grew a successful reputation from carefully sourcing quality materials, excellent design and quality craftsmanship. They do mainly residential work and build one of a kind furniture pieces and design your space to suit your home.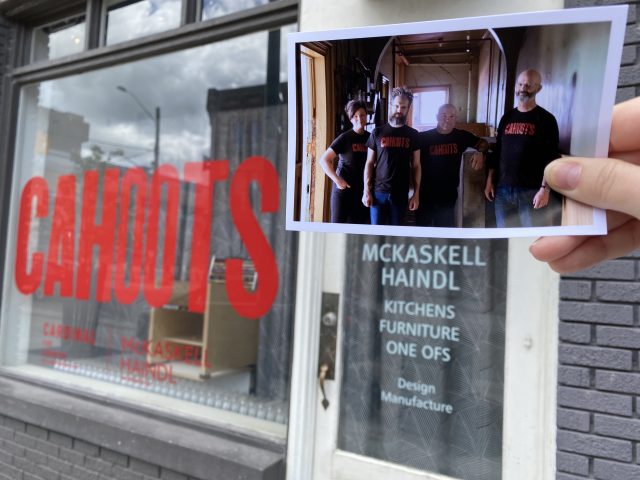 McKaskell Haindl Design Build has been in business a total of twenty-eight years with the addition of the downtown showroom for the past eight years. This creative design build business was born when the two Chris's came together sharing a space- Chris Haindl, the designer and former arts student, and Chris McKaskell, the carpenter turned custom cabinet maker. They formed a strong partnership that blossomed from each appreciating the skills the others didn't have.
Four years ago McKaskell Haindl helped create a design group by teaming up with Cardinal Fine Cabinetry. They have been able to broaden their design and customer base, Cardinal has the largest scope of ability in the London kitchen market and has been around sixty years, with an excellent reputation. In 2019 they added 309 Design, which makes furniture, objects, wallpaper and fabric.
"The art of custom cabinet making is a slow process," says Haindl, "It's a trade that needs attention." McKaskell Haindl is proud to support local apprenticeships to keep the trade going. They truly value community as the backbone of their business. There is an old-world sensibility to the McKaskell Haindl business philosophy that drives them to harvest refurbished materials and aim to be environmentally conscious whenever possible.
Contact them through their website www.mhdbonline.com for design inquiries and to view samples of completed work. The team is available to meet by appointment only.
---
If you would like to get in contact with the McKaskell-Haindl group, you can find them listed in our directory. Want to learn more about other local businesses? Our Stories section is updated every week as part of our Keep London Local campaign. Thank you for continuing to support the London community.