"My wife was a dog agility trainer and nutritionist who was very passionate about animals. This store is her legacy…" – Ted Ellwood, Petacular Food & Supply Ltd.
At 57 York Street in Downtown London, you'll find two furry and friendly rabbits named Harrison and Penny, who are Petacular's mascots. You'll also find a store full of all-natural pet supplies and grooming services.
Owner Ted Ellwood, also President and CEO of Peloton Minerals Corporation on Wellington Street in London, opened the York Street store along with his wife in 2005.
"My wife was a dog agility trainer and nutritionist who was very passionate about animals," says Ted, "This store is her legacy and is run by our wonderful manager, Danielle."
Ted is a London Local and a current downtown resident. He felt London needed a downtown pet store that sold all-natural products and that acted as a hub for pet-needs in the downtown core, "My wife and I had to drive outside of the downtown to get anything pet-related and we felt that pet owners in the downtown needed access to all-natural products."
Whether you're looking for something for your cat, rabbit, bird, fish or any small animal, Petacular carries lots of Canadian-based and unique supplies. The store even gets some products from St. Mary's.
"We want you to have an experience when you come into Petacular—say hi to Harrison and Penny—and really feel that it is a family-oriented environment," says manager Danielle Adam.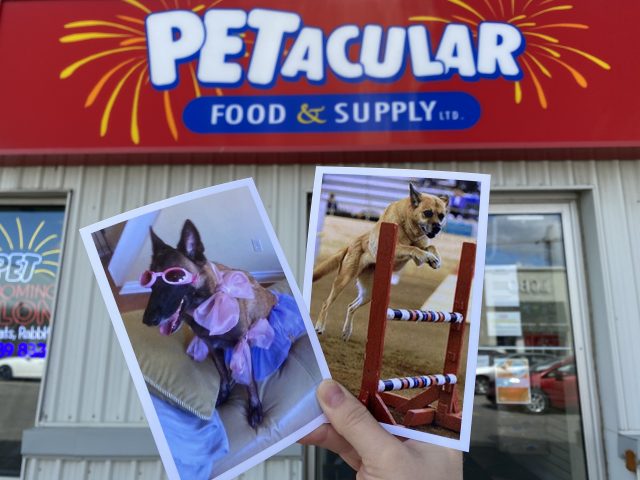 Recently, Harrison and Penny were featured in 'Bunnyzine,' a monthly, digital and popular bunny magazine, for their tricks, and Instagram account.
Petacular also offers one-on-one grooming service! This allows for dogs that may be frightened or elderly to have a calm experience, avoiding the pressure of being around other animals at the same time.
"The groomers are very experienced and our services range from bathing to full grooms, nails, ears or teeth," says Ted.
Check out Petacular's website for products and services. They have a Facebook and Instagram as well.
---
If you are looking to treat your pet, you can find Petacular Food & Supply Ltd. listed in our directory and on our Online Marketplace. Want to learn more about other local businesses? Our Stories section is updated every week as part of our Keep London Local campaign. Thank you for continuing to support the London community.