"It is important to 'Keep London Local' because, as virtual realities become more common, we need to be intentional about interacting within our local community. Working, playing, and living IRL (in real life) helps to keep us grounded." – Ibukun "Ibbie" Afolabi
The Mama's Physio is located in a grand house at 784 Richmond Street, just north of Oxford Street. The specialized clinic provides services for optimal pelvic and maternal health for women in London and the surround community. It houses a team of expert physiotherapists, in a soothing, bright space. An empowering message emblazoned on the wall: "We Believe You are Designed to Flourish." The Mama's Physio is not just a place for Moms but all women in all stages of life.
Ibukun Afolabi "Ibbie", the owner operator, is a Certified Pelvic Health Physiotherapist and the Clinical Director of Mama's Physio. An enthusiastic communicator, it is clear that Ibbie is passionate about her business and loves to help to her clients. She is a knowledgeable leader in her field, having graduated from UWO in Kinesiology and completing a Masters' degree in Physiotherapy from Queens.
The idea to enter the rehabilitation field came to Ibbie at a very young age. As a child, she spent a few years in hospitals watching her older brother recover from a near fatal accident. He learned to a walk again with the help of a physiotherapist -and through observing his healing process, an interest in health began. Some years later, her mother broke her wrist and Ibbie became fascinated by the rehab process. These experiences left a "a big impression" and put the thought of a vocation in the rehabilitation sciences in her heart. Spending time in hospitals overseas during her university placements, Ibbie noticed that not all women were treated with respect and she decided to make a difference.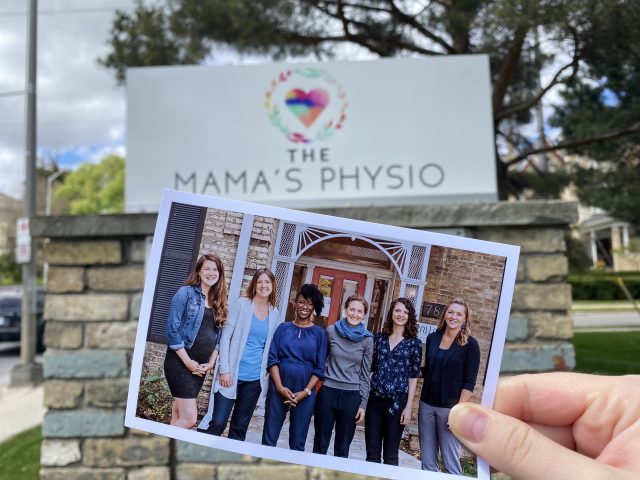 At Mama's Physio, each woman is treated kindly and as unique individual with highly specific treatment goals. Pelvic health is a sensitive subject and one that some women often feel uncomfortable discussing. Yet "women are becoming more open about having these conversations with their healthcare providers".
Some new services besides pre and postnatal care and women's pelvic health include pediatric health services. Children ages four to twelve can be treated for issues such as bedwetting, constipation and daytime leaks. Treatments for blocked milk ducts occurring during breast feeding is also available through the use of ultrasound technology.
For extraordinary care, contact The Mama's Physio and follow their Instagram page. According to Ibbie herself, "As virtual realities become more common, I believe it is more important than ever that we be intentional about interacting within our local community. Working, playing, and living IRL (in real life) helps to keep us grounded. It also adds to the sense of community and camaraderie that so many of us have missed over the past year."
Check out their website www.themamasphysio.com or call 226-377-3933 to book an appointment today.
---
Want to learn more about other local businesses? Our Stories section is updated every week as part of our Keep London Local campaign. Thank you for continuing to support the London community. #KeepLondonLocal