"London is already so small, so if you were born and raised here, you probably know the person who opened a restaurant down the street, or who lives in that building. When you keep [London] local, it's keeping up the community and building up a home. You can leave and come back and know you'll feel welcome."
---
Located at 353 Clarence Street is BoFit 2.0, a new fitness studio in the core with an enthusiastic staff team striving to spread love to as many people as possible through personalized regimens and a passionate outlook on fitness. Founded by Bo Parsons 7 years ago, BoFit is a gym that hopes to act as a home away from home for its members and for the community. We sat down with Bo, and two of his team members Amber and Tiniah, to learn more about the story behind this Downtown London business.
Bo began his journey in the fitness industry 17 years ago and has been evolving ever since. Bo, founder and personal trainer, moved to London from West Virginia when he was 9 and soon became a fully converted Londoner. He began working with different gyms in the city, getting his start with Alec and Lynne Pinchin at Fitness Forum. After a while, Bo was looking for a challenge and to bring his energy into a different space that doesn't feel like it's run as a business and strives to make an impact with clients. With that, BoFit first opened on Wharncliffe Road and began to welcome members to come as they are; "…we're super chill and we want people to be themselves. Just come in and be you! Come in and have a good time – let's just kill it!"
With BoFit 2.0 opening in September 2020, Bo and his staff team are hoping to foster a new gym atmosphere downtown. With their unique staff team full of friendly personalities and a passion for what they do, they're confident they can make an impact on their new members. At BoFit, you can expect small fitness classes led by knowledgeable personal trainers, and a catered workout routine for the individual's abilities." The energy, skills, [and] personalities we bring to the table are completely unique. We're all invested with every single client as we've dedicated our lives to this. We know our clients' stories, their past injuries, we want to get to know our clients… and my clients know everything about me. This is a family here… we're sad when we can't work!"
---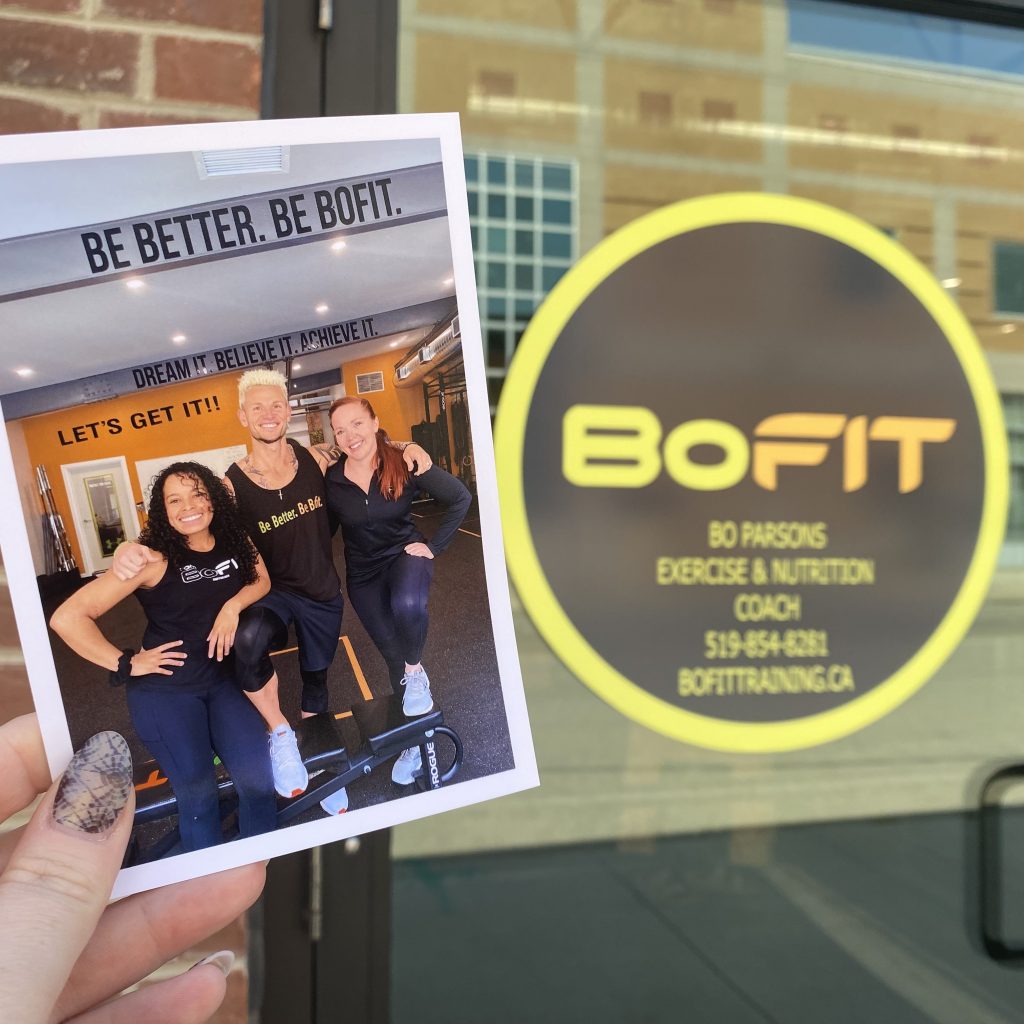 Not only is this team passionate about their work, but the bond between them and their clients is something that makes this business extraordinary. The team regularly works together to make sure everyone feels accepted and welcomed, even during their own free time. "Besides the gym, I don't have a life," says Bo. Amber and Tiniah can attest to his passion for his business; "Bo is the best boss that [we've] ever had… as trainers, [we] always feel that typical gyms bring in clients and are more so freelance workers. But here, [we] can call Bo and he is always open and available to help… and is really encouraging."
When not spending time at the gym, Bo, Amber, and Tiniah love getting out into nature on the local trails around the city. "We're the Forest City, so we want to enjoy all that nature has to offer. I even spend time with my nephew looking for turtles; they're everywhere in London!" says Bo. The gym offered virtual training sessions and personalized workouts over the previous lockdowns, but with restrictions being slowly lifted, they're hoping to potentially take their love of nature and combine it with fitness classes in the future. Whether it's bike rides in the summer or snowshoeing in the winter, Bo, Amber, and Tiniah are hoping to bring some community events Downtown.
When asked what they want their customers to feel when they're at the gym, Bo, Amber, and Tiniah were all in agreement; "[We want them] feeling good and coming in and actually realizing that fitness and health don't have to be intimidating or judgemental. You can come to another home [away from home] where we're going to provide a safe, healthy workout for them where they're not going to be given something beyond their scope of abilities." With this new location Downtown, Bo and his team are hoping to make an impact to help bring vibrancy back into the core. "Downtown is in a lot of trouble right now, and we wanted to move in and try to [help] revamp downtown to make the area more unique… People need relationships and those kinds of connections, and we feel like a family here and can offer that to the community."
This is why Bo, Amber, and Tiniah believe that it's important to Keep London Local. Bo and his team strive to support local businesses by only shopping local when it comes to aspects of their business, and to help build up the community; "We need to build a stronger community. We need it… It's all about giving back and giving a little bit of your time to show that you love and care for people." Among supporting local businesses, BoFit also regularly sponsors youth sports teams in the city to show their support. "[I] didn't come from much, and wouldn't be where I am if people didn't give me their time and guidance. I had teachers who came out and helped me get to games in the past… it's so important to build that confidence for kids. People need relationships and those kinds of connections to grow."
To learn more about BoFit, visit their website or check them out on our business directory.
---
Want to learn more about other local businesses? Our Stories section is updated every week as part of our Keep London Local campaign. Thank you for continuing to support the London community.