"We're starting to see new faces downtown with the new buildings opening up, which is so great because there's a lot more people living downtown now than ever before… Downtown has a brighter future now than ever before because of this, so we need to support local businesses."
---
If you've ever been to an event at Budweiser Gardens, you've probably stumbled across or heard of FitzRays. Located at 110 Dundas Street, this restaurant and lounge has developed a reputation for good food, great service, and a good time among locals. We sat down with Owner/Operator Mark McGonigle and bartender/business partner Jason Bell to learn more about this local gem.
Mark has been influenced by food and restaurants for many years. His father, Ray, was a salesman for food distributors and learned about the food industry at a young age. After working at Tiger Jack's for many years, he decided to become his own boss and bought a space in 2007 while on his honeymoon. "If you're already working long hours for someone else, why not keep working those long hours for yourself instead?" Mark was young when he started looking for a place and wanted to be taken seriously as an owner of a new restaurant in the industry. Mark was adamant about trying his hand at ownership, even if he failed. "[There's] nothing wrong with trying if you want to. You can always say you did it if you failed. You can't try to be a motivator or tell your children to do what they want if you can't take your own advice." Mark's longtime colleague and friend from The Brass Door, Jason Bell, came along as a partner 7 years ago, and FitzRays (meaning "Son of Ray") is still going strong 14 years later as a downtown gem.
FitzRay's location on Dundas Place is also a perfect location for Mark and Jason, as they feel that downtown is a hub for other people working in the restaurant industry. "Downtown is a community, and it has a "Cheers" vibe where everyone in the restaurant industry downtown knows and works with each other." With this restaurant downtown, Mark has also praised being able to build relationships with some of the other great restaurants downtown and has even been able to partner with other businesses for marketing and promotion. He also always refers customers to other businesses downtown and loves that other businesses in the community do the same. "We have to work together, and if you continue you do so, you'll see more and more restaurants open up and continue to [support others] too."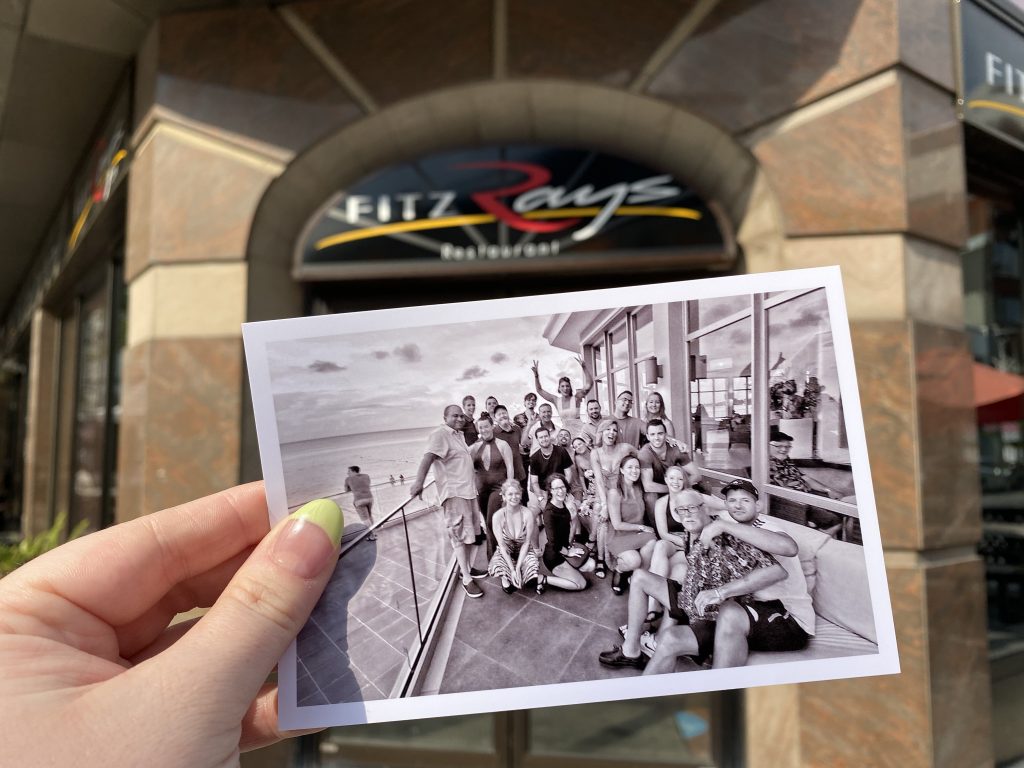 ---
Not only is the community a benefit, but Mark and his family have several favourite spots that make Downtown that much better for them. "We love David's Bistro, it's a special place for my wife and me for anniversaries, and my son and I love Heroes too. There's so much great shopping downtown too to explore." Mark also praises the music scene that's downtown as well, noting the London Music Hall as a great place to explore a wide array of music. Among the great shopping and restaurants, Mark highlights the green spaces that are available to the public, including bike paths, as well as Victoria Park being a favourite with his wife and kids.
With people from all walks of life coming downtown, Mark and Jason want the restaurant to feel safe and welcoming for all and full of value. "These days, it's not cheap to eat out, so the experience should make you feel good value for your dollar. The staff are friendly and nice and have worked here for many years, and they can make it feel like home so you'll come back." They also love that the restaurant is a common meeting place for other people in the restaurant industry to come together to hang out and network, making FitzRays a truly unique addition to downtown. "I always preach "eat where you work" to support other businesses and build up the community. I always tell my staff to go enjoy the other businesses, and they do the same. You can come here after work for a drink, and we'll do the same. People are creatures of habit, and once you develop the habit of going somewhere or doing something emotional, they keep doing it." said Mark.
Which is why Mark and Jason believe it's important to Keep London Local. "When all the locals support local, it keeps the money in the community. You tip the waiter at this business, and then they move to another local business for a drink after work, and then that waiter might go shopping at another local store. You're investing more in the community and keeping it all together." With the potential end of the pandemic in sight, Mark and Jason have said that this summer has been different, and the future of downtown (and FizRay's) is bright; "We're starting to see new faces downtown with the new buildings opening up, which is so great because there's a lot of people living downtown now than ever before… Downtown has a brighter future now than ever before because of this, so we need to support local businesses."
We couldn't agree more!
---
Want to learn more about other local businesses? Our Stories section is updated every week as part of our Keep London Local campaign. Thank you for continuing to support the London community.