"There are so many places with just big box stores and there's no aspect of the community – it's all about meeting and greeting and socializing with your neighbours and building relationships. Supporting local helps with this."
---
Hyacinth Henry and her business, Glamourous Touch, has been a long-time presence in the London community. Now partnered with her son, Nathan Henry, and a brand-new location at 204 Central Avenue, GT Hair Boutique is a full-service hair boutique and salon offering a multitude of hair care services for all different kinds of people.
Hyacinth has lived in London for 29 years and started Glamourous Touch 24 years ago. She was a working mom who was looking for something different and discovered she had a knack for hair after helping out friends and family for special occasions. "I was always doing my friends hair and doing weddings and parties, and my friends suggested I start doing hair full-time, and I never thought about it! After having two kids and working a salon out of my house, it grew into a shop and that's how it started!" says Hyacinth. When not working on her business, Hyacinth also enjoys being a part of her community by volunteering. "I love to help the community and help people who are in need. I like to assist individuals in any area of their life that they need help, so that's what I'm most passionate about."
It wasn't long after that Nathan joined his mom in the business, jumping in with both feet after quitting his job; "I was working a corporate job for a couple of years, and one day I came home and just thought "I can't do this anymore." I always helped my mom with the business here and there and [I] talked to my parents about it, and we just thought "let's go for it!" and I resigned from my job the next week." When not working on his businesses, he's enjoying time with his family and anything to do with sports. With Hyacinth's skills for hair care and Nathan's computer skills and marketing experience, the pair have created a synergistic relationship that has helped grow GT Hair Boutique into what it is today.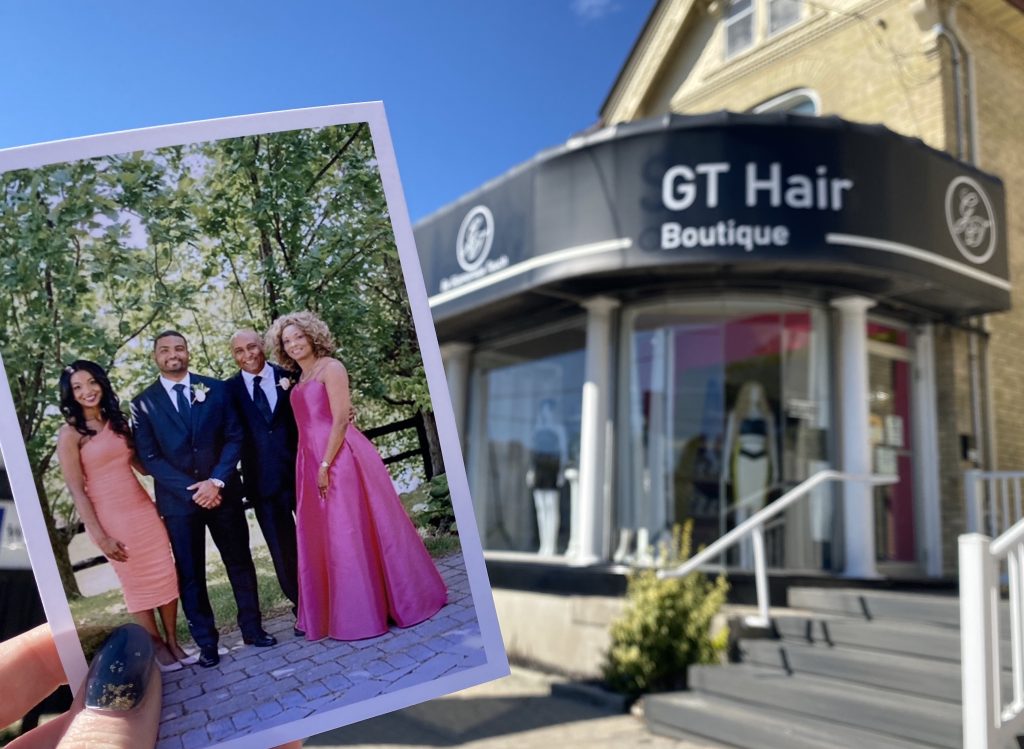 Hyacinth always loved downtown London, so opening a location here was always a part of the plan. "The support we get from Downtown London is one of the key things that I like about being Downtown. I find in the business community that everyone is always helping and keeping us updated with what's going on in the neighbourhood. We can relate to them from a business point-of-view" says Hyacinth. There are also some other elements that make this location downtown that much sweeter for Hyacinth; "It's vibrant, and you can walk to any restaurant. Everything is central too; the hospital is down the street, as well as the university. It's very central, so that's why we work on Central Ave!"
GT Hair Boutique's opening brings a very unique business into the downtown core, specifically offering hair services that can be hard to find. Along with being a full-service salon, GT Hair Boutique also sells and services wigs and hairpieces for both men and women. "There are so many aspects to offering wigs to people – some clients have Cancer or Alopecia and want a wig to help boost confidence. There are also people who just want a different style or want to make getting ready faster in the morning. We also are able to offer [wig] toppers for people whose hair is thinning." says Hyacinth. Along with hairpieces, Glamorous Touch also offers services for clients with curly hair. "There's a lot of clients that have curly hair. There are actually so many different nationalities with curly hair, so we're able to service the curly hair community and they're so happy to be able to find someone that does cater to curly hair."
GT Hair Boutique is a truly unique business because of this, and Hyacinth's experience over the years has made it a destination for those hard-to-find hair care needs. "Being a hairstylist and also doing wigs and hairpieces, the combination of both [skills], I find that I'm able to help clients on a more personal level. And I think having that as a whole is very unique." GT Hair Boutique also offers customers to schedule a private consultation to help ensure the products and hairpieces they're receiving will be the best fit for their needs. This practice has been very successful and fulfilling not only for the clients but for Hyacinth as well. "[The] visual transformation you get when they come in versus leaving the salon… You can see the physical difference. It's so simple, but you can actually see people's demeanor change when their hair is done or they have a new hairpiece. It's not like you're just solving someone's problem, but you're making them feel better about themselves. We are happy to support so many people who may be going through some kind of trauma, whether it's an illness, hair loss, or a loss of self-esteem."
This leads to why they think it's important to Keep London Local. GT Hair Boutique believes that helping the community, whether it's helping clients at their business or helping people in need, is a big cycle that is crucial to keeping the community alive. "There's something special about feeding the community and the community feeding you. When you support a local business, you're supporting the business owner's family and their kids, and they will support you back. There are dozens of people who work with us or have been helped by us. When you see people succeeding in their business, it's a great feeling." says Nathan. Hyacinth agrees; "There are so many places with just big box stores and there's no aspect of the community – it's all about meeting and greeting and socializing with your neighbours and building relationships. Supporting local helps with this."
To learn more about GT Hair Boutique, visit their website or check them out in our business directory!