"I am a local business and I have my kids in Taekwondo and pay a fee that I earn from Londoners to the teacher who is also a Londoner. I am not an economist, but you can see how keeping everything local can grow the economy. Not just the economy, but a stronger community itself. In my opinion it is very important to keep things local, support local businesses and keep things rolling in our city."
---
Pinkal Gandhi has been a nurse practitioner for over 10 years, and the founder and owner of Pinkal Medical Aesthetics for the past 3. What began as a part-time foot-care practise in 2010 has steadily grown into a medical aesthetics practice, offering botox, derma fillers, extensive foot care treatments, and more.

Just north of Oxford at the top of Richmond Row, Pinkal's practise, and her husband's new pharmacy called "Richmond Rx Pharmacy", are located at 781 Richmond Street. They are a husband and wife team and both interested in building the London community: "We are 'people-people'. We want to build that social connection and get right down to the human level." Pinkal says they plan to continue running both their downtown businesses until her and her husband are ready to retire – which isn't any time soon!
Growing up in Gujarat, India, Pinkal watched her father run a dairy shop and a motel. This gave her insight into the business side of life: "Since then I always wanted to work for myself, so I was constantly looking for ways I could do that with nursing." While working in footcare, Pinkal had clients suggest moving into medical aesthetics, but she never thought it could be an option. "I'm a very simple person, I don't always put makeup on, I don't get monthly facials, so I thought I couldn't be helpful to medical aesthetic patients… but I realized 'lots of men are in this career and they don't necessarily get these done either!' It is all about your technique and knowledge."
Pinkal Medical Aesthetics is a woman-led business, and also the only footcare clinic in London that is led by a nurse practitioner. The business is heavily focussed on accessibility and offers house calls. "We don't just provide service in the clinic," Pinkal says, "we have nurses who can go out and treat people who cannot drive, are disabled, or sometimes simply too old to visit. We want to be accessible for everyone."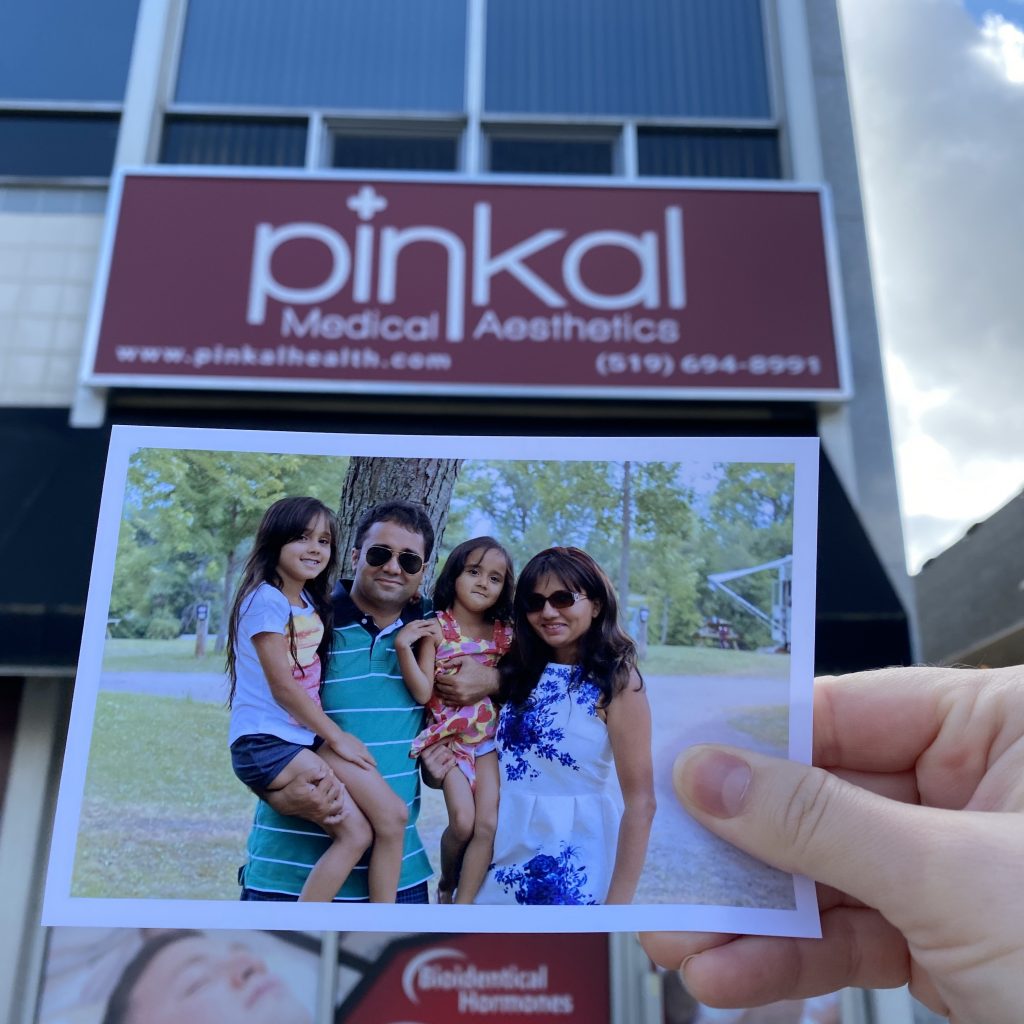 ---
Pinkal's favourite parts of the downtown are the local restaurants and the beautiful scenery of Victorian style homes. She is also heavily involved with the annual Holi Festival of Colours that is celebrated at Victoria Park. "I have great memories there with the Indian and London community", Pinkal says, "I choreographed the dances that you see on the stage and my kids love Holi too. And when everything opens, I will be on the stage again!"
When asked why it is important to Keep London Local, Pinkal responded "It is ever so important, even now, to Keep London Local. Supporting local builds the community and creates employment. To get the London economy rolling, we need to put it back into the city and local businesses can do that."
Providing an example, Pinkal explains "I am a local business and I have my kids in Taekwondo and pay a fee that I earn from Londoners to the teacher who is also a Londoner. I am not an economist, but you can see how keeping everything local can grow the economy. Not just the economy, but a stronger community itself. In my opinion it is very important to keep things local, support local businesses and keep things rolling in our city."
---
"I'm just lucky that things turned out this good," says Pinkal, discussing her storefront location within the core. "…You get the most exposure to the public which means you can help more Londoners. Overall I think it is a great location…it is right in the center!" Clients will experience an efficient, confidential, and trusting practise, and a non judgemental space with Pinkal and her nurses. She and her staff want every client to feel comfortable enough to connect with them and open up their hearts, regardless of where they come from.

To learn more about Pinkal Medical Aesthetics, visit their website or check them out on our business directory.
---
To learn more about other local businesses? Our Stories section is updated every week as part of our Keep London Local campaign. Thank you for continuing to support the London community.