"It is important to Keep London Local because we try to create something different and bring something unique to the city for the people. It is great that people support local businesses because, even for big companies, it isn't easy nowadays. If they are able to, people shopping local should do so at whichever business they choose."
Olha Prytkova and her husband are the co-owners and operators of the Happiness Cafe, a bright and bubbly coffee & bake shop that specializes in European sweets. We sat down (virtually) with the Prytkovas to learn more about their family and the story behind their Downtown London business.
The couple opened the Happiness Cafe together in 2018 and will be celebrating the business's third anniversary this August. Having no prior business experience, the idea for the cafe was born out of a passion for baking. "When we lived in Ukraine 6 years ago, I started baking for my kids, making cakes and lots of different things. But, it was too much for our family so we started sharing with friends" Olha recalls. What started as a love of baking quickly outgrew the home kitchen, as friends started putting in orders to Olha for custom cakes and desserts. When the family made the move to Winnipeg, and eventually London, they decided they wanted to continue baking – but this time in their own brick and mortar.
The concept of the Happiness Cafe was a place for people to come and feel at home. They are a coffee shop with a variety of sweet options, like cakes, donuts, macaroons and so on. "The main difference," Olha says, "is that we are not so sweet!" The couple agrees that the sweetness in Canada is much greater than flavours in the Ukraine. "We try to bring something we used to have at home. It is all about different combinations and different flavours". Bringing something different than other places in London, Happiness mixes European flavours with French influence.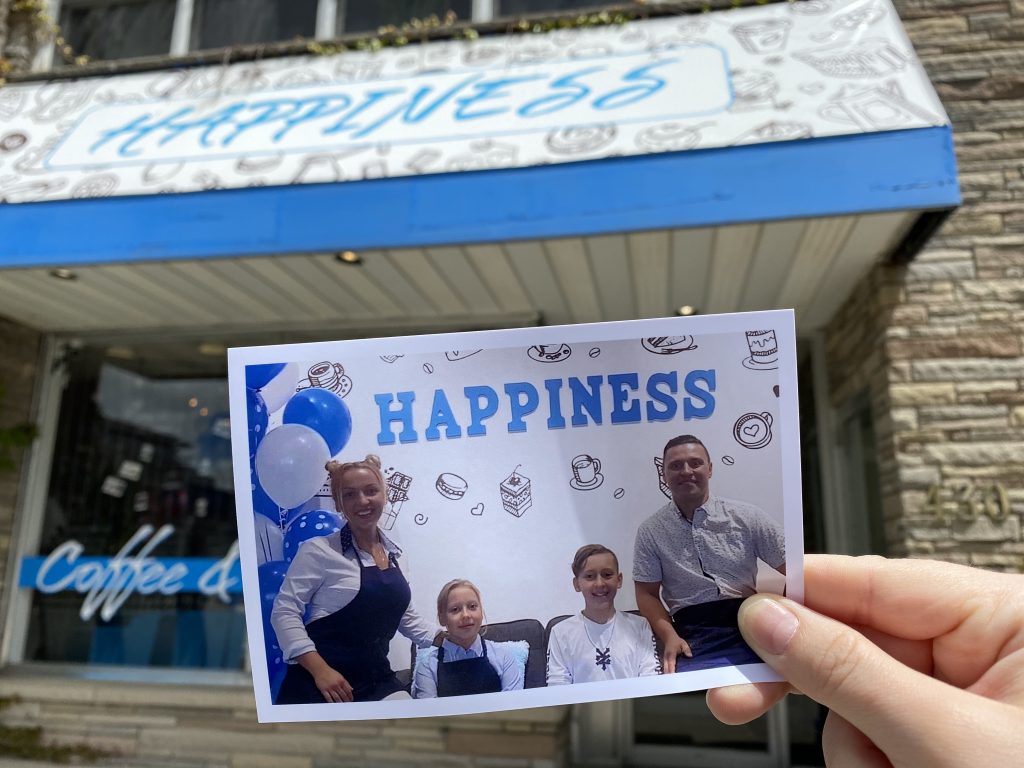 Keeping with the theme of European influence, Olha says that a location downtown was exactly what they wanted: "In the Ukraine, all of our cafes and restaurants are always located in the downtown area". They want customers to sit and enjoy the hustle and bustle of downtown London, and the beautiful green space and view from their patio. "I like the view downtown. I like the neighbours and apartments near us. They are so friendly. Because it is downtown it is nice to grab a coffee and walk up to Victoria Park".
"It is important to Keep London Local because we try to create something different and bring something unique to the city for the people. Because we live here, we bring something and give back to this city – that is why it is better to support local. And when we go out somewhere, we go to local restaurants to have an experience and support our people in the community"
The Happiness Cafe has been part of their story ever since they first visited London, whether they knew it at the time or not. "When we first came to visit the city to see if we wanted to live here, we were walking and saw this place for lease … we thought 'it is a perfect space!'". Six months later, the family moved to London from Winnipeg, and on their first Monday here Olha showed up at 430 Wellington to ensure the space could be theirs. "We really like this location".
When asked what they want their customers to feel when dining at their shop, Olha replied: "To bring happiness to the people! To make people happy!" The husband and wife team have decorated the store with polaroids of past customers, so people feel like they are at home even if they are dining alone. "[Happiness Cafe] is like our second home – actually it's like our first home. We spend so much time here!" They invite Londoners to come visit their family, and enjoy the city from the comfort of their patio once restrictions lift. In the meantime, the cafe is open for takeout and Olha is hard at work designing take home boxes of sweet treats for any occasion.
You can check out their instagram page here, or their online store to order custom confectionaries here.
---
You can find Happiness Cafe listed in our directory. Want to learn more about other local businesses? Our Stories section is updated every week as part of our Keep London Local campaign. Thank you for continuing to support the London community. #KeepLondonLocal