"It is important to Keep London Local because when we shop at independent, locally owned businesses, rather than large national chains, a much greater portion of our money stays within our local economy. This allows us to support neighbours in need, sponsor kids activities and sport teams, boost the dreams of our friends who also want to be entrepreneurs, support our local farmers, and so much more." – Michaelanne Hathaway
Michaelanne Hathaway is living her best life as owner operator of Stache Fabrics & Notions. Opening her own brick and mortar store in the creative arts sector feels surreal for her. "It's really a dream come true to do what you love."
Hathaway grew up in a fibre-loving home as a child. She picked up sewing naturally and her hobby grew into a lifelong passion. With the help of the introductory business programs at the Small Business Centre, Stache Fabrics & Notions was born. It's centrally located at 213 King Street inside the iconic Novack's building. It's the perfect setting for this positive, community focused arts hub.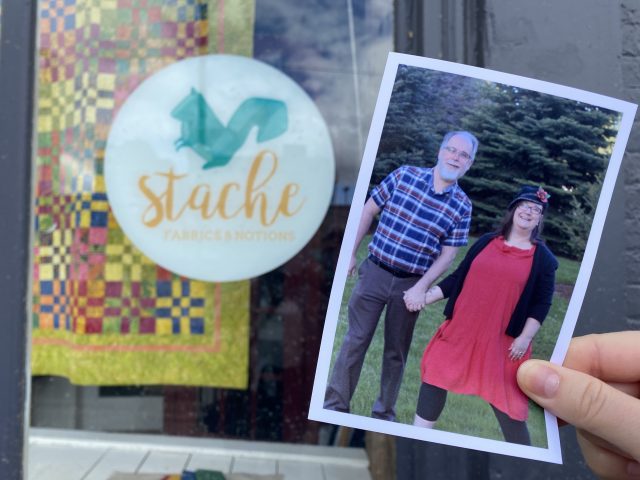 "I literally did a happy dance as I closed at the end of the day on Saturday" Michaelanne recalls, "then I popped some money in the cup of the guy on the corner, went out for dinner with some friends at a locally owned restaurant and made the decision to hire another team member. All because Londoners made the choice to shop at Stache Fabric & Notions instead of the big box alternative."
One visit to the shop and it's hard to not feel inspired. The interior has been freshly-painted in whimsical colours and samples of beautiful quilts line the walls. Rolls and rolls of gorgeous materials are available to buy.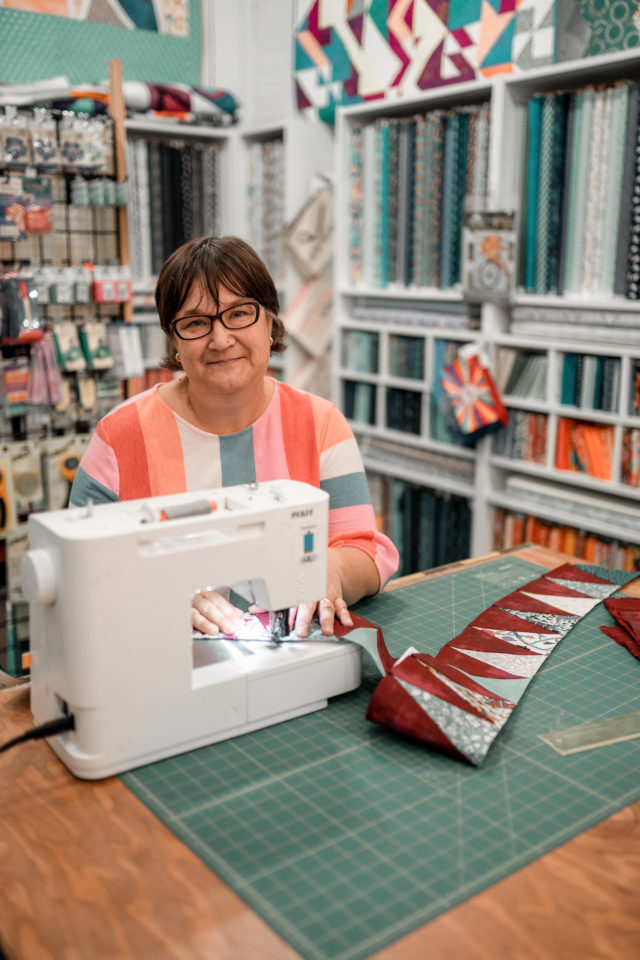 The shop is more than a place to buy Canadian sourced fabrics and products, a goal Hathaway tries hard to accomplish, it's a social hub to make friends in the community. Hathaway aims to be as inclusive and invites everyone to the store. It's an accessible place for all ages, and abilities. Collaborations with other local merchants are always welcome.
Stache will have bins to store your creative project so that customers can drop by on their lunch breaks to work on their pieces. Sewing machine rentals are available. There's a large backroom for classes such as Learn to Quilt, Learn to Macrame and Quilting Techniques. You can even learn to make your own scrunchie. If a customer has a project idea and needs someone to consult with, Hathaway will gladly guide them. Knitters are and welcome to drop in as well. Check their website for hours of operations and updates for home product delivery options.
"Small scale locally owned businesses are the heartbeat of any community … large or small." Says Michaelanne. "A community that supports small, locally owned businesses are more prosperous and connected. When we shop at independent, locally owned businesses, rather than large national chains, a much greater portion of our money stays within our local economy. This allows us to support neighbours in need, sponsor kids activities and sport teams, boost the dreams of our friends who also want to be entrepreneurs, support our local farmers, and so much more."
"Shopping small, locally owned business makes our community more prosperous and better connected!"
---
Do you feel inspired? Stache Fabrics & Notions is listed in our directory. Want to learn more about other local businesses? Our Stories section is updated every week as part of our Keep London Local campaign. Thank you for continuing to support the London community.